A Drexel student designed a new small, sustainable urban garden for the Moore College of Art & Design June 1. The "self-sustaining urban oasis" was created by Alexandria Imbesi, a graduate student studying interior design and architecture at Drexel's Antoinette Westphal College of Media Arts & Design.
Imbesi entered the "network: Designing Green" competition, which was hosted last fall by The Galleries at Moore College of Art & Design, where her design became the inspiration for Moore's south courtyard at 19th and Cherry streets.
"[I'm] incredibly proud to have contributed to the greening of the urban landscape in Philadelphia and to have seen what started as an idea come to fruition as an oasis on Race Street," she said.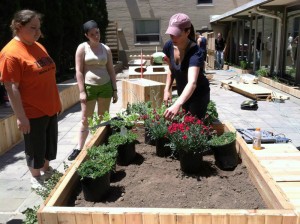 The competition challenged participants with explicit requirements: The space had to be 100 percent recyclable and reusable, include a seating area, and be able to be assembled quickly and cleanly. The finished design was located at 20th and Race streets for one day. It featured a downspout collector, ornamental plants and repurposed lumber.
Before being repurposed, Moore's courtyard was a smoking area with concrete slabs. Now the space has wooden benches that wrap around three sides of the rectangular courtyard. Surrounding the benches and in two plots within the courtyard are raised beds with ornamental plants. With the intention to make the area 100 percent sustainable. The rectangular courtyard contains two seating areas where students can eat and take a break from studying.
In keeping with the sustainability of the courtyard, all of the wood used to encircle the plant beds is made from recycled cedar, which was made from repurposed wood supplied by a fencing company.
Imbesi had never participated in a construction project before this one. She was responsible for managing the process and providing information for the contractor to make the pieces for the space. Keeping with the efficient design of the courtyard, the construction of the elements was done entirely off site by building modules to reduce the amount of on-site construction time. The assembly of the courtyard was carried out in one day.
Four teams of designers were chosen to construct parklets on Race Street, three of which were Drexel teams. The teams included Katie McHugh, Megan Mitchell, Missy Halberstadt, Anne Lapins, Megan Place and Kristen Stephen, all students in the interior design and architecture graduate program. Sequoyah Hunter-Cuyjet, a graduate student studying interior design at Moore, was also on a team.
Prior to beginning the master's program at Westphal, Imbesi had "been working in the corporate world with a bachelor's in sociology and a minor in business."
Imbesi currently interns at ASH NYC in Brooklyn, N.Y., an interior design company.