If the United States doesn't open itself up to international travel, its economy and hotel businesses will suffer, Marriott president and managing director of international lodging Ed Fuller said Nov. 11 during a speech in the Mitchell Auditorium at the Bossone Research Enterprise Center. .
The event, hosted by Radesh Palakurthi, Drexel professor and director of the hospitality, culinary arts and food science program in Goodwin College, and Ruth K. Lee, manager of the culinary arts program, was geared toward students interested in the hospitality business. The speech kicked off the Executive-in-Residence Speakers' Series.
"This Executive-in-Residence Speakers' Series has given our students an opportunity to interact with the upper echelon of the hospitality industry and to showcase their talent," Palakurthi said. "Now our students will surely find co-ops and work placement with the company, which had been our goal with the EIR program."
Fuller, the president and managing director of international lodging for Marriott International Inc., said the demand of international travelers for hotels in the United States far exceeds the supply, which needs to change.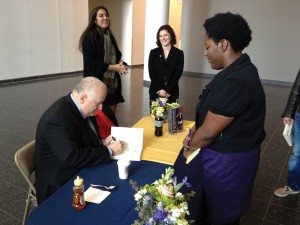 International interest in U.S. travel has always been prominent, but ever since the terrorist attacks on Sept. 11, 2001, the U.S. has not welcomed travelers with open arms, Fuller said, living up to his managerial status in a starched black suit as he paced back and forth on the stage.
Marriott is looking to break the barriers that the United States has created, the hotel mogul said.
"We are a company focused on growth," Fuller explained.
While Marriott wants to expand in the U.S., according to Fuller, the company is exceeding international expectations. Approximately 200 hotels are under construction outside of the U.S., and 3,784 Marriott hotels exist in the world. One just opened in Siberia.
For growth to be possible a company must focus on ways to attract customers, Fuller said. To do this, Marriott is concentrating on getting more online customers. With more reservations made online than over the phone, the company has already made roughly $8 billion from Internet sales, and Marriott is currently the seventh-most popular company on the Internet in the world.
"Technology is changing our industry fast. With all those changes, our business is about people," Fuller said to an audience of 115 students and faculty. Many students in attendance were hospitality and business majors..
"I want to work in hotels," sophomore hospitality major Jon Stanley said following the speech. "I want to work for Ritz-Carlton and carry over the ideals of Marriott."
One such ideal that Fuller emphasized is Marriott's people-centric attitude. As a president and manager of an international company, Fuller focuses on making individual relationships with every associate and customer he encounters, he said.
"When you talk about values, relationships are part of it," Fuller said.
Forming relationships is not something that can be done instantly, Fuller said. Forming long-lasting relationships is a long-term process that revolves around respect, understanding, trust and getting to know each other.
.."Through the years I have developed a set of guidelines for building relationships with my team members, hotel owners, associates and guests," Fuller wrote in his book, "You Can't Lead With Your Feet On The Desk," which was available for purchase at the event. "There is just one ironclad rule: You must consider the other person's interests and needs."
Fuller said that he uses his values and leadership skills to manage crises such as hurricanes or bombings. When managing hotels internationally, any type of crisis is possible. As a manager, knowing how to manage a crisis is key. Thousands of people's lives are in a manager's hands, so a manger needs to know how to approach an issue.
"You've got to make a decision, right or wrong, and you have to live with that decision," Fuller said. "It's value and the values that companies have that make a difference."
"You Can't Lead With Your Feet on the Desk" was published in 2011 by John Wiley & Sons. For more information on Fuller and his book, visit youcantleadwithyourfeetonthedesk.com.