A $10 million gift to Drexel University will soon transform a portion of the 3500 block of Spring Garden Street into a community center that will offer local residents science, technology, engineering and mathematics education programs; digital access; and healthy living education, as announced Oct. 4 by President John A. Fry.
Construction of The Dana and David Dornsife Center for Neighborhood Partnerships will begin this winter, according to Vice Provost for University and Community Partnerships Lucy Kerman, who is championing this massive development.
"We were extraordinarily lucky to have the opportunity to share this project with Dana and David Dornsife. [They are] real visionaries with deep compassion and a commitment to really creating change,'" Kerman said.
Three vacant sites totaling 29,400 square feet, including two historical properties and the vacant Archbishop Ryan School for the Deaf, will be renovated to accommodate the Center. Philip B. Lindy, the namesake of Drexel's Lindy Center for Civic Engagement, purchased the site in conjunction with a feasibility study conducted in January.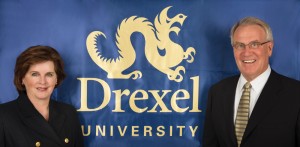 "We conducted [a study] about the possibility of creating a center in the neighborhood that could engage all of our colleges and schools," Kerman said. "There were extraordinary and very creative ideas for how Drexel expertise could be shared with the community."
Kerman and her team built on the model of 19th-century cooperative extension centers, which were created by "land grant universities" in hopes of using research findings to solve problems in local communities.
"Given Drexel's strong background in applied and experiential learning, it seemed like a perfect fit for how we teach and learn here," she said.
In fact, Kerman plans for every college and school at the University to participate in the Center. Additionally, programs in the Lindy Center, Drexel Libraries and Student Life will be drawn upon to facilitate the Dornsife Center's many community offerings.
The Dornsife Center, which is slated for a 2014 opening, will cater to children, adults and senior citizens, with varied planned programs including a free law clinic, a community health center, dance classes, workshops in engineering and architecture, homework help, and computer training.
While the Center will be self-sustaining once it's up and running, Kerman says she will try to find ways to involve the Drexel community as well as local residents and nonprofits.
Senior mechanical engineering student and head resident assistant Greg Swan is optimistic about the potential for Drexel students to become involved with the Dornsife Center's programs.
"Whether the Center is part of a new University 101 requirement, programming within the residence hall outreach program, co-ops or new student groups forming to service the Center, I feel many opportunities will be available for students to find a way to engage with the Dornsife Center," he said.
Swan has previously volunteered for many organizations in the Philadelphia area, including UCGreen, CanDU and the Philadelphia Animal Welfare Society. He said he thinks the Dornsife Center will positively impact Drexel's surrounding communities.
"With many impoverished families living in the region, this center, I feel, will offer great benefits and invaluable information to those in the area that need assistance," Swan said.
He continued, "I feel that Drexel's initiative with this center demonstrates the University's initiative to expand into the surrounding neighborhoods but not demolish, impede or bully their way into them."
Kerman and the soon-to-be-contracted construction crew will go to great lengths to make the properties work as the Dornsife Center.
"The biggest challenge will be providing accessibility in those old buildings," she said.
The $10 million donation will fund construction and renovation of the three buildings and is another in a string of large donations from Drexel alumni.
Dana Dornsife earned her bachelor's degree in business from Drexel. She and her husband are longtime philanthropists known for founding the Lazarex Cancer Foundation and chairing the steel-fabricator Herrick Corporation, respectively. The two are also the namesakes of the College of Letters, Arts and Sciences at the University of Southern California.
"Drexel's project inspired us because of its potential to serve as a model for urban outreach by universities nationwide," Dana Dornsife said. "I'm proud of my alma mater, and I look forward to seeing Drexel's impact on the Powelton Village and Mantua neighborhoods."