The offices of the University Registrar, Financial Aid and the Bursar will be consolidated into Drexel Central, a collaborative effort to make serving students easier and more efficient, President John A. Fry announced Jan. 17 in an email to the University community.
Currently, representatives from the three offices report to three different people, making it hard to keep things cohesive as each office sets individual goals and follows its own systems. Drexel Central will join the functions of the three together, all reporting to Senior Vice President, Treasurer and Chief Financial Officer Helen Bowman. Not only will the functions and management be consolidated, but students will physically only have to go to one place — Drexel Central — to solve problems relating to any of the three offices. To simplify the process, student service representatives will be cross-trained and therefore familiar with potential issues and solutions in all three offices.
"The Drexel Central team has established its mission — to deliver superlative customer service that enhances the student experience and encourages students to achieve their educational goals — and identified core values including accountability, accuracy, effectiveness, empowerment, integrity and professionalism," Fry explained in the email.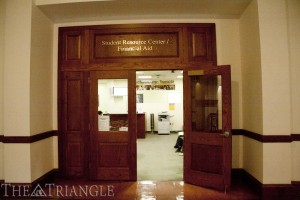 Vice President for Financial Planning Amy Bosio is heading the project and leading the Drexel Central team, which consists of the executive directors from the three offices.
Students have often expressed frustration when dealing with these offices, sometimes after being sent back and forth between the offices while trying to resolve a single issue. Fry and Bosio are aware of students' problems and addressed them in Drexel's master plan. They're bringing a solution to fruition with the announcement of Drexel Central.
Meaghan Paulosky, a pre-junior studying biomedical engineering, recounted an issue from last year that took her more than a week to resolve.
"Every time I had to make a physical appearance, the offices were overcrowded. My simple question took about 40 minutes from my day. For a solid week [during] sophomore year, I had to decide whether or not I wanted to avoid a several-thousand-dollar fee or miss lecture," she wrote in an email.
When she learned about Drexel Central, she said, "[It will help] immeasurably. A good amount of my time at the beginning of each term is [spent] calling each office and being bounced around with the phrase, 'Oh, we can't help you, that's [another] office."
Fry helped to implement a similar system during his time as executive vice president at the University of Pennsylvania, and he knew he wanted to bring a similar consolidation to Drexel. The Drexel Central office will be located in rooms 105 and 106 in the Main Building. The space is currently under construction but will be ready and functional by July, and full services will begin in the fall 2013 term.
The Drexel Central team has also recruited an advisory board of student leaders. One member is Greg Swan, a senior studying mechanical engineering.
"I feel that the current system has been fractured and fragmented, to say the least. The most common phrase I hear from students is that they get 'ping-ponged' between the various offices when seeking help. Drexel Central aims to clear all of the hassle and streamline students' requests and keep it low-stress. I am very happy with the proposed new Drexel Central and think this will surely make Drexel much more efficient," Swan wrote in an email.
Julia Saunders, a pre-junior mechanical engineering major and another advisory board member, added: "I think my favorite part about Drexel Central is that there will be greeters so that when the line builds up, they will go through the line and find out what each person is in line for. If a student is in line for something simple, or if they are not in the right place, the greeter can help them out quickly or steer them in the right direction so the student does not waste time."
The offices' separate websites will also be combined and simplified to help current and potential students quickly navigate through the information and possibly solve their own problems.
"A collaboration of this magnitude in higher education is virtually unheard of. … One of the key factors in the total success is the collaboration between the senior VPs and their recognition that this [system] is broken and needs to be fixed," Bosio said.
Within the next few weeks, a survey will be distributed to collect valuable firsthand input from students to help in the planning and implementation of Drexel Central. Students are encouraged to participate in it to assist the Drexel Central team as it seeks to improve student services.
Fry thanked the University in advance for participating in the survey at the end of the announcement, stating that participating will help to "fulfill our vision of catalyzing a culture of unparalleled service and accountability across the University."