Pennsylvania Gov. Tom Corbett invited Drexel University faculty and administrators to join a delegation that traveled to Brazil and Chile April 6-16 to complement the commonwealth's trade mission.
The delegation included Drexel President John A. Fry, Vice President of Government and Community Relations David Wilson, Vice Provost of Global Initiatives Julie Mostov, associate professor of chemical and biological engineering Richard Cairncross, associate professor of information science and technology Rosina Weber, Interim LeBow College of Business Dean Frank Linnehan, and recent computer and electrical engineering doctoral graduate David Delaine.
During the South American visit, Fry signed a memorandum of understanding with top-ranking universities, including the Pontificia Universidade Catolica do Rio de Janeiro, Pontificia Universidad Catolica de Chile, Universidade Federal de Santa Catarina, and the University of Sao Paulo. The University of Sao Paulo is Brazil's largest and most prestigious educational institution.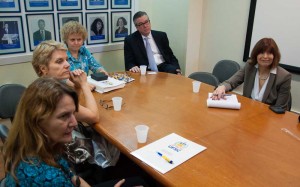 The MoUs are intended to facilitate student, faculty and research exchange, as well as potential co-op programs. Mostov explained, "We want to create more experiences for students, and even for students that can't go abroad, we want to create global classrooms so they can collaborate."
Mostov further explained that while an MoU is not a legally binding document, it is a framework that outlines a commitment to work together, collaborate and make exchanges. As written agreements, MoUs will also allow for the universities to obtain joint funding more easily, as their partnerships are clearly identified.
A portion of Drexel's Strategic Plan is devoted to fostering global partnerships, and Drexel has been in contact with these schools for several months. Drexel has also created recent partnerships with Shanghai Jiao Tong University; the Shanghai Advanced Research Institute of the Chinese Academy of Sciences; Sabanci, Koc and Bogazici universities in Turkey; and most recently the University of The Gambia.
"We want to have interesting personal, cultural and social experiences. The cities we are involved with are all very different, international places where Drexel is now forming really meaningful relationships," Fry said.
When looking for partnership opportunities, Mostov explained that the University administration first considers the reputations of potential partners. If they are well-established universities, then their interests, goals and strengths are analyzed for compatibility. Existing connections between Drexel and the potential partners are also considered, be they pre-existing research collaborations or staffing, and then communication is initiated and document samples are exchanged.
"Then, when you say to them, 'We're bringing a delegation,' then of course they recognize that you're serious about a partnership," Mostov said.
The Drexel delegation paralleled the governor's trade mission, which included elected and appointed officials of the commonwealth as well as important business leaders. Drexel was the only higher-education institution represented on the mission.
"It gave us a really nice platform to talk about co-op and work in an urban environment. … The governor remarked to me several times how much he appreciated that we accompanied him. There wasn't one place that the governor went where he didn't talk extensively about Drexel," Fry said.
Drexel is one of the first universities to commit to cohesive agreements with these South American universities. According to Fry, "We were very warmly received and appreciated."
Drexel's administration hopes to have programs developed for students and faculty with the recently partnered universities as early as October 2013.