In an official mailing sent May 17, Drexel University President John A. Fry shed additional light on an anti-Semitic incident that occurred in a residence hall on campus May 12. The letter was the second of two and served a more informative role than the first, which offered only a brief reaction to the harassment. Fry stated in this second letter that he did not want to avoid the topic and as such, described both the incident and measures to react to it in additional detail.
"The symbol in question was a swastika," Fry began. "A Drexel student placed it along with the word 'Jew' next to an Israeli flag displayed in another student's room. The perpetrator was identified soon afterwards; the two students knew each other. Drexel Police investigated immediately, and the administration worked with the victim and his family to provide support and accommodation so that the student felt safe and valued."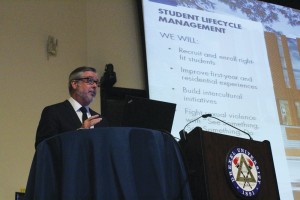 While the situation has been handled by University officials, Fry was unforgiving in voicing his opinion on the incident itself. "Whether this malicious act was a hate crime or just blatant ignorance, it is unacceptable and incompatible with the ethos of our University," he wrote in his first email.
He elaborated further in his second email stating the University's intolerance for this type of behavior, "The swastika is not a symbol of protest or provocation. It is a symbol of anti-Semitism. There is no circumstance in which its use in response to an expression of Jewish identity can be construed as anything but a reference to historical attempts to threaten and even destroy the Jewish people. There is no place in our Drexel community for any person who would make use of this anti-Semitic symbol, knowing its historical and cultural significance."
Fry also emphasized the role of the bystander in allowing incidents such as this to occur, and stated that those who stand by and do nothing are almost as bad as those who do commit the act. "We know that two students witnessed the perpetrator's actions and did not stop him or remove the offensive display before the victim saw it," Fry wrote in his second correspondence. "The responsibility for achieving the goals of tolerance, inclusion and cultural competency lies with us all — the University's administration, faculty, professional staff and students. Any member of our community who is witness to an act of intolerance or hate also has a responsibility," he continued.
Fry concluded his correspondence by stating that a series of discussions, both formal and informal, would take place in the coming year to further address the topics of equality and diversity. As these meetings had been announced well before the incident occurred, they illustrate Fry's belief that a continued conversation, even in absence of incidents, is integral to the continued success of the University.
"Bystanders can take powerful action to mitigate the effects of even the most hateful act, just by overtly rejecting it and protecting those to whom it is directed," Fry's second letter continued, "We must all keep this in mind, even as we work diligently to build a culture in which an incident like that which occurred last week is unimaginable."
Conversely, Fry's statement has been very well received by many, most notably the Drexel Hillel association. "The student leaders of the Drexel Jewish community would like to publicly thank President John A. Fry and the Drexel administration. We applaud their swift action against and condemnation of the recent hate crime committed against a Drexel student," the organization stated in a recent post on their Facebook page.
"We would like to remind Drexel students that all of our events are open to the entire student body, and we encourage each and every one of you to come join us, have some fun and learn about Judaism. By creating spaces for open dialogue, we hope to keep this important conversation of diversity and tolerance alive," the post continued.
Drexel Hillel finished their post by encouraging students to speak with others of different backgrounds and religions to perpetuate acceptance and awareness of diversity throughout the campus in hopes of preventing future discriminatory acts.
"I think he did a good job of nipping it in the bud," Ubaid Bhatti, current psychology major, said when reflecting on Fry's letter. "I think there's a lot of people that would benefit from the planned discussions too. I'm a part of the Muslim Student Association, and we've discussed how terrible these kinds of acts can be just within our own group."
The Triangle will post an update as soon as the dates for the discussions about diversity and inclusion Fry mentioned are released.
Read John Fry's full letter here: http://drexel.edu/president/messages/message/intolerance/