Allison Frick, the Director of Outreach and Education at the Hacktory, taught a class of 13 local women how to pickle and preserve produce at the Department of Making and Doing on Market Street Sept. 29.. This event, titled "In a Pickle," was one of many hosted in the past year by the Women's and Gender Studies program of Drexel University and co-sponsored by the College of Arts and Sciences. These events have been led and organized by Jessica Kratzer, the program coordinator for interdisciplinary programs, which includes women's and gender studies as well as international area studies.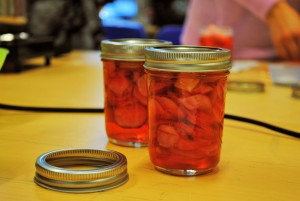 The program, which ran from 5-7 p.m., introduced the class to basic pickling methods as well as hot-water bath canning methods. If done correctly, food can be safely stored outside of a refrigerator for up to two years after being canned. Frick said she learned about canning methods after moving to an apartment in the city with an unreliable refrigerator and no freezer. "I didn't have a lot of food storage options," she said. Because of this, Frick spent a year learning her way around canning, making several mistakes at first. She was quick to share these mistakes with the class so that they could learn from her.
During the class, the participants worked in pairs. Each pair was given radishes, ginger, jalapenos and carrots. First, each team made two jars of gingered pickled radishes. Next, they made two jars of pickled jalapenos with carrots. The jalapenos were made using a hot water bath canning method, which meant they could be stored outside of the refrigerator until opened. During the preparation, partners worked together as well as shared stories about their families and grandmothers who had canned before them. Frick also shared several stories about times when her canning hobbies helped her out in unique situations.
One participant, Marjorie Boone, attended to learn how to preserve her food so that she could continue her ambitious gardening without wasting the excess produce. "I need to learn how to preserve my harvest… so I'm excited about that!" Boone shared that she had attended up to five events before the "In a Pickle" workshop, and that she had also got her friends to start joining her. "I just started spreading the news and sharing the information so everybody could make it," Boone said. "I have fun trying to do it. It's like going back home to do what mom and grandma do."
Frick is involved in more than just canning, as she works at a library. In the past she has volunteered at two libraries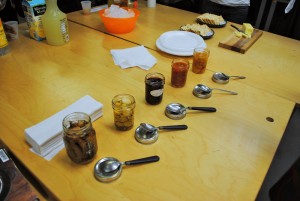 as well as at a homeless shelter in Philadelphia. She also works with the Hacktory, a program for making and doing that engages kids and adults with several programs. There, she worked with afterschool programming and outreach for a year, which is how she got involved with the DMD in the first place. A non-profit organization, the DMD hosts several after-school programs along with events such as those connected to the Hacktory and various Drexel affiliated groups. The DMD plans on leaving their current location at the end of November.
The women's and gender studies program will continue to host events. The next event to be planned, according to Kratzer, is a workshop on salary negotiation.