A new study abroad program allowing newly enrolled freshmen to spend their first term in Dublin will begin this coming fall. The students selected will have the opportunity to take classes in a Drexel partner school, and to explore the rich cultural and immersive history of Ireland.
"The program is designed with two goals in mind," Daniela Ascarelli, assistant vice provost of international programs and director of the study abroad office, said. "We are looking for adventuresome students to not only step out of their comfort zones but to bond with 20 of their peers in an accessible setting. The students involved will all be going through the same difficulties entering into a new environment. This experience should help them ease into the college lifestyle as well as making long-lasting friendships in the process."
Currently, the program is only open to incoming freshmen in the LeBow College of Business and the College of Arts and Sciences.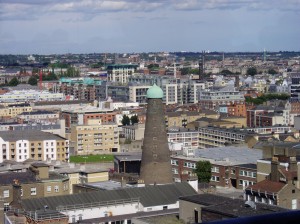 "However, if enough interest is garnered, then the study abroad office will certainly look to expand the program into the other disciplines," Ascarelli said.
Interested students will apply with their regular Drexel application, and the study abroad office will then reach out personally to selected students. Freshmen participating in the program will earn 18 to 20 credits studying at the Dublin Business School and School of Arts, a university located right in the heart of Dublin.
Accepted students will attend a pre-orientation meeting prior to departure to meet their new Drexel faculty adviser. This surprise faculty member will work more as a mentor than as a professor and will guide students for the duration of the course.
Total costs include Drexel's standard tuition as well as a program and housing fee ranging from $8,000 to $9,000. An additional $400 police registration fee must be purchased upon arrival, and students will be responsible for their own round-trip plane tickets. A special Freshman Frontiers scholarship is offered by the study abroad office, and all accepted students will be automatically considered.
More information about the Freshman Frontiers program can be found at http://www.drexel.edu/undergrad/freshmanfrontiers.