Thanksgiving dinner was served to over 100 homeless Philadelphians in the Newman Center of St. Agatha-St. James Church and delivered to the Philadelphia Fire Department's 911 staff by Drexel's Phi Kappa Psi fraternity chapter ,Nov. 21..
"For the first few years, food was prepared from the apartments of our various brothers. Since that time, Drexel Residential [Living] has been very generous in allowing us use of [University] facilities," Harry Wilson, a Drexel alumnus and Phi Kappa Psi member, said. Wilson has been a cook, coordinator and regular donor since the beginning of the philanthropic tradition.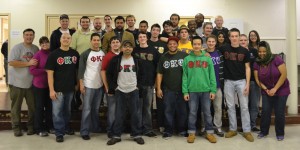 This year, the fraternity prepared 13 20-pound turkeys as well as mashed potatoes, stuffing, homemade gravy, vegetables and cranberry sauce in Millennium Hall.
"We used every oven in Millennium, and it was a challenge keeping the whole thing organized, but [our philanthropy chair] really kept things together, and all the guys did their part and made it fun. I'm definitely planning on doing it next year," Will Dackis, a freshman pledge and biomedical engineering major, said.
Brothers began preparing the food as early as 5 a.m. in order to have it finished by 2 p.m. and ready to serve by 6 p.m.
Sean Eden, a sophomore in the health sciences physician's assistant program and philanthropy chair of Phi Kappa Psi, organized the event with Lee Anne Draud of the University City Hospitality Coalition. Eden admitted that the fraternity struggled to raise the amount of money necessary to fund the event.
"Getting donations doesn't just happen overnight," Eden said. Funds and food are collected by brothers and alumni, but due to the possibility of recipients having food allergies, the fraternity is unable to accept precooked food or food with exotic spices. Therefore, they have to purchase and prepare the food themselves or receive specific donations. Earlier this year, the fraternity had a screening of the debate between Bill O'Reilly and Jon Stewart in which all proceeds were put toward the Thanksgiving dinner.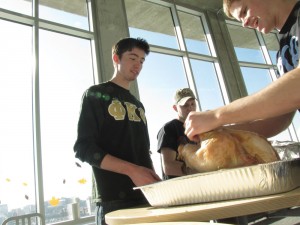 Despite the challenges that they faced along the way, the fraternity, whose motto is "For the great joy of serving others," continued its tradition of service while providing Thanksgiving dinner to Philadelphia's homeless and 911 staff as a gesture of thanks for their commitment to the community.
"A philanthropy event is something every fraternity is expected to do at Drexel," Eden said, and as a fraternity awarded for its service to the community, Phi Kappa Psi will continue this service tradition along with many others.
The fraternity has been in coordinating with Draud to prepare and serve dinner to the homeless since 2001 and to the Philadelphia Fire Department since 2006.
This year, to benefit the Boys & Girls Clubs of America, the fraternity will host a cornhole competition Feb. 21 from 6 to 9 p.m. in the Armory.