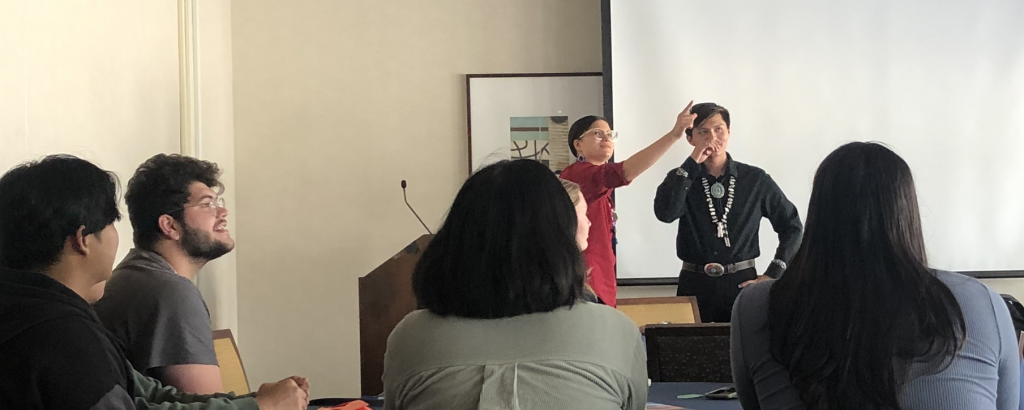 On Monday, Oct. 10 at 12 p.m., Drexel University's Indigenous Students of the Americas (DISA) organized the first Indigenous Peoples' Day celebration at the university. Held at Skyview Lounge in Macalister Hall, the event featured guest speakers, food, music, performances and more.
Indigenous Peoples' Day has a short history at Drexel, only becoming an official university holiday in 2020 along with Juneteenth. Drexel Indigenous Students of the Americas is also a relatively new organization on campus, founded in March 2020 by co-founders Sky Harper and Raquel Ramos.
"We just knew that with the nation and Drexel switching over from Columbus Day to Indigenous Peoples' Day, it's really important for this organization to have an event, to start something at Drexel that will be done annually," said Ramos, a senior health sciences major, "Drexel doesn't have an Indigenous Peoples' Day event and we want a day with people of all indigenous cultures or allies to come and really feel the safe space, really be true to themselves and their culture and kind of just share [the space] with everyone."
Though DISA organized the event itself, it was sponsored by the Student Center for Diversity and Inclusion (SCDI), the Lindy Center and the Westphal BRIDGE Scholars Program.
"It's a big event, so that means a lot of funding. We really wanted to find guest speakers, more than just who's on the board for the org, so we have a couple of professors here who are gonna talk, a couple of tribal guest speakers, as well as org members to share their culture," said Ramos. "The hiccups were really just finding a space and funding, but that's with most events. But of course, it all worked out."
In the opening remarks for the event, club president Sky Harper stated, "We carry the hopes and the prayers, as well as the stories of our families with us everyday. It is time that we acknowledge and use these stories to find strength and build community with one another. Only together can we work towards change and recognition."
In addition to remarks from DISA members, guest speakers included adjunct faculty member from the Dornsife School of Public Health, Dr. Erica Blue Roberts, and Toyce Holmes, Program Coordinator for the First-Generation, Low-Income Center at the University of Pennsylvania, as well as an adviser for Natives at Penn.
Aside from this event, DISA has a few other projects in mind for the academic year. One is promoting their land acknowledgement, which they hope can be read before every event at Drexel.
"This land acknowledgement, recognizing our privilege of attending the institution, encourages the readers of this to reflect on their relationship with Lenape Land and how you can be a supporter of Indigenous fights today," the document reads.
Additionally, DISA is planning an anti-Thanksgiving event to share the actual history behind the holiday and break down common stereotypes surrounding the nationally recognized holiday.
"Really, the goal of these types of events is to expand education on indigenous culture, on Native Americans as a whole, just to show that we are here," said Ramos. "The culture's alive, [indigenous] people are very much here and present in Drexel's population."
To learn more about Drexel Indigenous Students of the Americas and keep up with their events, follow them on Instagram at @drexel.indig.