The FBI has warned all Philadelphia area colleges and universities to be on alert after a recent social media post threatening violence at a Philadelphia college or university at 2 p.m. eastern time Oct. 5. There have been similar social media posts across the country since the mass shooting at Umpqua Community College in Roseburg, Oregon on Oct. 1.
A picture of the threat, made on 4chan.org, can be seen below.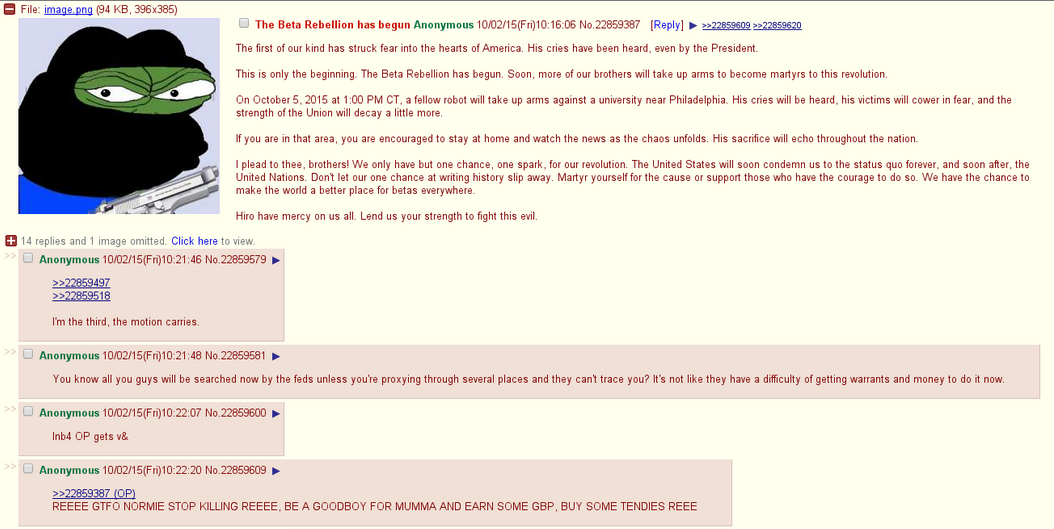 "On October 5, 2015 at 1:00 CT, a fellow robot will take up arms against a university near Philadelphia," the threat reads. "His cries will be heard, his victims will cower in fear and the strength of the Union will decay a little more."
The threat was not specific to any Philadelphia college or university. However, Drexel Public Safety will take precautionary measures by increasing patrols Oct. 5.
"The safety of our students, faculty and staff is our highest priority and we are taking every possible precaution to keep our campus safe," Drexel's campus safety notification read.
The release also stated that all Drexel police officers and Allied Security officers will be on high alert for suspicious packages, persons or activities.
Students are encouraged to report any suspicious packages, persons, or activities immediately by calling Drexel Public Safety at 215-895-2222 or 911.
Find more information here.
Updated 10/4/15, 7:26 p.m.
Correction: an earlier version of this article indicated that the post was made on a Philadelphia sub-reddit, and not to 4chan.org. The Triangle regrets this error.