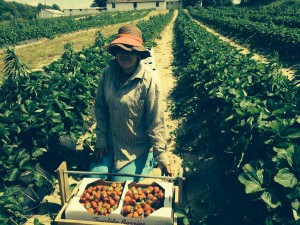 The Drexel Farmers Market, which was taken over by Philadelphia-based agriculture program Farm to City in May 2014, will be moving its operations to Chestnut Square between Zavino and Shake Shack starting fall quarter 2014.
The previous vendor of five years, farmer John King, notified Drexel he would be retiring at the start of this season. King helped launch the current partnership between the Farmers Market and Farm to City, which has been operating in front of the Dragon statue and out of the Recreation Center lobby.
"The new Chestnut Square courtyard was quickly identified as a location for the Farmers Market because of its open and welcoming location," Joseph Russo, director of the Dragon Card Office, said.
The Farmers Market now receives produce from two local farms as a result of the partnership with Farm to City. Lead by Matthew Weiss, Farm to City is a mission-driven small business in Philadelphia that organizes farmers markets as well as other local food programs. Weiss has partnered Drexel's Farmers Market with Fruitwood Farms, and Urban Tree Connection & Neighborhood Foods Farm.
Fruitwood Farms is run by farm manager Mike Nelson and located in Monroeville, New Jersey. Fruitwood farms produces about 45 different fruits and vegetables on their farm as well as honey. Urban Tree Connection & Neighborhood Foods Farm, located in the Haddington neighborhood of West Philadelphia, is led by Executive Director Skip Wiener.
"Local, seasonal produce tends to be more flavorful and vibrant than grocery store-bought produce because it is picked fresh and does not have to travel long distances or spend extensive amounts of time in refrigeration before being brought to market," Dorothy Ann Buttz, the farm marketing manager at the UTC&NF Farm, said.
"Eating locally also affords the Drexel student an opportunity to expand their culinary palate and try new produce varieties that are not available commercially."
UTC&NF Farm will be providing baby greens, spinach, kale, mustard greens, arugula, lettuce, bunched greens, collards, broccoli raab, root vegetables, rainbow carrots, colorful beets, vibrant turnips, radish, butternut squash, squash, garlic, herbs and more.
"While there are numerous personal benefits to be enjoyed by consuming locally grown and produced foods, buying local produce is not only about personal benefit," Buttz said. "Sourcing food locally, almost always, supports more economically and environmentally sustainable approaches to farming, it helps to keep smaller family-owned business in operation, and it creates more local job opportunities for those interested in pursuing careers in agriculture and/or the food movement."
Urban Tree Connection and Neighborhood Foods also cultivate produce in five other lots scattered throughout the city. The organizations welcome individual volunteers on Mondays, Wednesdays and Fridays at the main farm site from 8 a.m. to 1 p.m. Freshman students can volunteer with the farm through their civic engagement class.
Drexel's Farmers Market will run every Tuesday this fall from 11 a.m. until 2 p.m. The Drexel Farmers Market accepts cash, DragonDollars and credit cards.