Eleven Drexel freshmen spent part of their summer transforming a former SEPTA equipment lot at 46th and Market streets into a quarter-acre community garden to be known as Walnut Hill Farm.
The students enrolled in a summer design class through the College of Engineering, which focused on developing this idea. In order to create a sustainable farm that yields produce all year long, the students used their wits to tackle the issues of heating, irrigation and tilling. According to Alexander Moseson, assistant teaching professor in Drexel's mechanical engineering and mechanics program, "Many of the students were drawn to this project for the opportunity to serve and were greatly impacted by working toward sustainability."
The students used a $500 grant from Air Products to purchase materials that would make their ideas a reality. Currently, there are two 1,100-gallon storage tanks that help keep the farm sustainable. A rainwater cistern keeps the tanks full, and  a solar panel on a nearby SEPTA building provides the power needed to move the water to the farm area.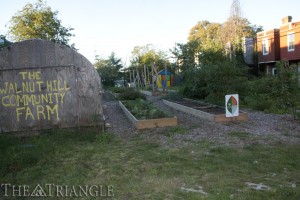 The class was divided into three groups, each with an individual goal. The first focused on developing the farm's sustainability. Another team of students from the same class invented a tool with "L" brackets and bicycle wheels that makes soil-tilling in elevated beds easier for volunteers. A third team of students wanted to prolong the harvest season, so they created a design plan for a greenhouse that will use water barrels and Mylar plastic sheeting to construct a space with a consistent temperature. The students submitted their plans to the Community Development Corporation with hopes that this greenhouse will be built in the near future. The tilling and irrigation systems were installed during the summer, and the CDC is currently working on creating the greenhouse.
"The freshman design students involved went above and beyond the call of the course, proving that it was more to them than just an assignment," Moseson said. "It was a privilege to work with Walnut Hill Farm to design and build technology that will make a real difference in our community and beyond."
Funding this community garden is a full-circle process. The CDC and Walnut Hill Growers Cooperative harvest the farm's crops and sell them at the SEPTA headquarters and at a farmers' market. Then, all of the profits go back to support and improve the farm. As is evidenced by the constant construction on campus, reimagining unused space is a consistent theme as Drexel progresses.
"This project supports Drexel's Strategic Plan by bringing together sustainability, community engagement and experiential learning," Moseson said.