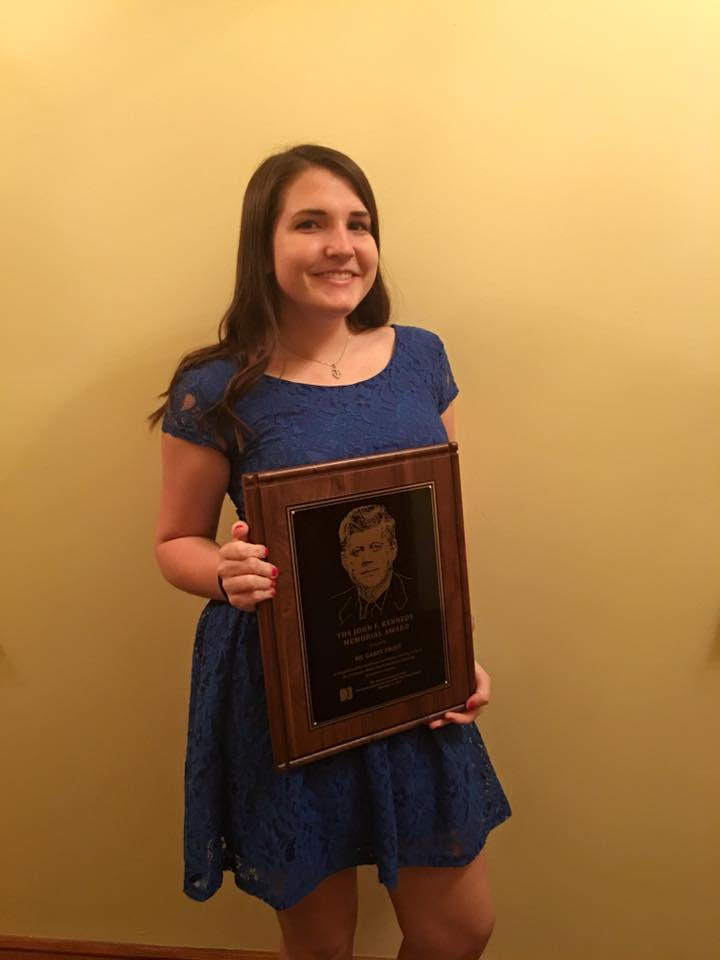 When one of her best friends began to self-harm, 15-year-old Gabby Frost knew that she had to do something to help.
That's how the Buddy Project was born.
It began as a Twitter account, created to connect young people struggling with mental illness and soon became an international support network for thousands. Three years later, Frost has paired up more than 148,000 individuals ages 18 to 25 to support each other through difficult periods of their lives.
Frost, now a freshman music industry major at Drexel University, claims this project has changed her life.
"I wouldn't be the person I am today without the Buddy Project," Frost said.
The Buddy Project operates by receiving requests to be paired with a friend through a Twitter account. Frost then pairs up people by a common interest and if anyone is dissatisfied, they can request to be paired again. It is a multifaceted organization, offering not only pairings of people so that everyone has a friend but also a page of resources and websites people can go to while they are going through hard times and a list of hotline numbers.
Frost created the Buddy Project account based on the idea that people bond over common interests, such as music, and expanded from there, wanting to raise awareness of mental illness and suicidal thoughts.
She often met people on her personal Twitter account who were experiencing suicidal thoughts or dark times in their lives who felt like they had no friends to turn to. She would reach out and tweet encouraging thoughts to them — now, the account for the Buddy Project continues that tradition.
The first day the Buddy Project had a Twitter account, she gained more than 3,000 followers and requests for pairings, and thousands more in the following days.
She initially felt overwhelmed and had a friend helping her as well as her mother. As of 2016, she is the only person running the account that belongs to the Buddy Project.
"The biggest thing is to listen to people. Often, people talk over those with mental illness. It's important to know how mental illness arises and what it is. Listening and educating yourself are two very important things," Frost said.
The Buddy Project has garnered a lot of attention from youth leadership outlets. Gabby has been to San Francisco for a youth leadership conference, where she received the idea to make the Buddy Project a nonprofit, and to New York several times to speak about her work with the Buddy Project and attend workshops for youth leaders in social entrepreneurship.
The Buddy Project gained tax-exempt status as a charitable nonprofit in December 2015, and recently got its own website and started fundraising through a Booster account. Now that the Buddy Project is formally classified as a  501(c)(3) organization under the tax code, Gabby can also seek funding and grants. All profits benefit the Buddy Project. Gabby hopes to be able to help others achieve their dreams using her experience when it comes to starting non-profits in the future.
"I'm just so grateful for the opportunities I've had. Not everyone gets access to resources like the Buddy Project has," Frost said.
Frost looks forward to being able to use the resources Drexel offers and learn more about social entrepreneurship during her time here. She would like to give back to behavioral health centers in the future, in the form of resources or scientific research on mental health and wants to hold events that partners can come to in the future so she can put a face to the names of the people whose lives she has affected.
Though she appreciates that her nonprofit has a younger audience, Frost admits that it is tough not being able to see the impact she has all of the time since most of her work is virtual. She is very excited about the potential for a Buddy Project app in the future, so that users will not have to have social media to use the service, although the Buddy Project just added a sign-up through Instagram.
Frost is grateful that she has had the opportunity to be positively impacted by the Buddy Project and for the change and growth she has experienced over the last three years. Frost has had a huge impact on those around the world struggling with mental illness, and the Buddy Project continues to have a huge impact on her.