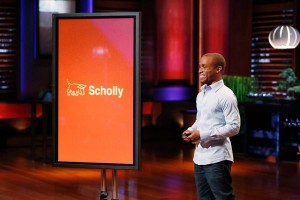 Christopher Gray, senior entrepreneurship major and creator of Scholly, a mobile app for scholarship searching, is set to appear on ABC's hit show "Shark Tank" this week. An announcement was posted on the Facebook page for the app Feb. 16, confirming a previous announcement on Bizjournals. "Finally able to announce that we will be appearing on Shark Tank this Friday at 9 p.m. EST on ABC! We also spark the biggest fight in Shark Tank History! Make sure you guys tune in and support us," it said.
Philly.com reported an exclusive tip saying that Gray's pitch caused an intense argument amongst the "sharks" or investors of the show, causing three of them to walk out. They also shared an exclusive clip showing one of the "sharks" Lori Greiner offering Gray the money he asked for no questions asked, irritating the others on the panel.
Known as "the Million Dollar Scholar," Gray is from Birmingham, Alabama. He applied for 72 college scholarships and received 34. He developed the idea for Scholly during the summer of 2012, when he worked with the Philadelphia Mayor's Office of Education. Gray served as a panelist for the Weiss Tech House panel back in November 2014, which was part of Penn Innovation Week. He plans to focus on Scholly full-time after he graduates Drexel.
His co-founders are Nick Pirollo and Bryson Alef. Pirollo graduated Drexel University in the spring of 2013 with a degree in electrical and computer engineering.  Pirollo's apps include Beach Buggies, which is described as "Uber for the beach," Whims, which is an "Instagram for Words" and Drexel's own HealthierU app. Alef is a graduate of Amherst College and was a Coca-Cola Scholar just like Gray. Alef also created an app called Rhythmatic, which was the most popular gaming app in Japan in 2011.
Originally released on May 11, 2013, the smartphone app costs only 99 cents on the App Store and Google Play, and also features sample application essays. According to a TechCrunch article from 2013, Scholly was created for smartphones because some students from low-income backgrounds have access only to a smartphone, not a computer; however, a web platform for the program is now available. The database of scholarships is updated monthly,  and it features scholarships for both aspiring and current undergraduate and graduate students. Users are able to access these scholarships without creating an account. Scholly has been featured by TechCrunch, BET, USA Today, Forbes, and U.S. News and World Report. It won first prize in the 2014 Baiada Incubator Competition, winning an unheard-of amount: $33,000. The app is funded by the Dorm Room Fund, a Drexel student-run investment fund backed by First Round Capital.
People aspiring to appear on "Shark Tank" must fill out a form concerning their demographic information, their product or business, what they seek from investors and what they plan to do with those funds. They also sign release forms, so that their image and likeness, and the image and likeness of their product, may appear on the show and in its promotions. This application can be emailed to ABC, or it can be brought to an open call session. Open call is open to the public, who have the opportunity to deliver a one-minute pitch to the show's casting team. Recent open calls were held in Las Vegas and Miami. The Shark Tank Blog, a fansite for the show, recommends that entrepreneurs acquired a patent before auditioning. Usually, auditions occur at the beginning of the year, potential contestants are contacted in the spring and filming takes place from June until the end of September.