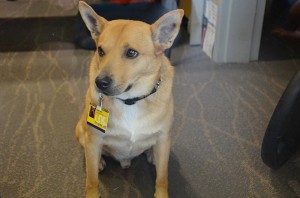 Outside the Recreation Center Sept. 26, students had the opportunity to meet Drexel's newest and fuzziest addition to the staff. Jersey, a mixed Carolina breed, greeted students for the first time as resident therapy dog under the watchful eye of owner and colleague, Coordinator of Student Fitness & Wellness Kathryn Formica. Drexel is the first university to host its own permanent therapy dog in its recreation center.
"It all started with the Puppy Pawlooza and chill-out days that were going on and the immense amount of students that were interested. We were getting 500-800 students per event," Formica said in regards to how Jersey got the job. "And I love dogs, but there was no way I could have one unless they were able to come to work."
Soon enough, she had found a way to combine both the success of Drexel's past dog events with her want for a four-legged friend.
"I thought of the idea and pitched it to a few people, but I never really knew if it would end up being grasped onto. It ended up being a big hit and preliminary talks with management began. They all quickly approved it and got behind it," Formica continued. Soon enough, she had adopted Jersey and began arranging for his time here.
Formica sees Jersey being very popular with the students. "I've had a lot of interactions with students where they've told me, 'This is really great, I miss my dog at home and seeing Jersey reminds me of them,'" Formica said of her interactions with students while walking Jersey.
Game art and production major Amanda Barbadora could be counted in the number of students who had to leave their furry best friend at home when going off to college. "I love dogs very much, and it's a big change to leave them behind and not have that comfort of their fur always by you."
Freshman animation major Julie McCloskey left a dog at home too, and said, "I miss my dog, but seeing Jersey makes me feel better since there's a puppy here to pet."
Jersey is more than just a cute face, though. His title of therapy dog was earned, not given. Both he and Formica had to complete a training course in order for Jersey to pick up his badge at Drexel.
"He completed his training in 2 ½ months, which was really impressive, considering most dogs finish in about a year," Formica said. The nearly four-year-old pup was far from the youngest in his course, but was more than willing to prove that you can teach an old dog new tricks. "He's older, but smart," she continued.
Jersey and Formica encourage students to stop by and see them both in their office on the third floor of the Rec Center on Mondays, Thursdays, and Fridays. Jersey's hours are subject to change, however, and so he requests that any students interested in visiting like his Facebook page, "Jersey Therapy," to keep up with his updates. Formica does ask that visiting students greet others in the room before Jersey, as therapy dog protocol dictates, to keep Jersey from thinking "he rules the world" — though, based on the overwhelmingly positive attention he's getting, it is possible that he already does.