Drexel University placed ninth on a list of the Top 20 College & University Green Power Users among higher education institutions within the Green Power Partnership, which was released Jan. 31 by EDC Magazine.
EDC Magazine is the official magazine of the U.S. Green Building Council's Leadership in Energy and Environmental Design program. Drexel was recognized for using green power for 100 percent of its electric energy. "[This] helps reduce the environmental impacts of electricity use and supports the development of new renewable generation capacity nationwide," according to EDC Magazine's website.
"The only reason we can't get to No. 1 is because it's based on the amount [of green energy] you purchase," Joe Campbell, vice chair for Drexel Green, an initiative that "aims to transform Drexel University into a sustainability leader," said.
Although Drexel can boast that all its electricity is wind powered, this only amounts to 84,268,000 kilowatt-hours in annual green power usage. Its neighbor, the University of Pennsylvania, which earned the top spot on the EDC Magazine list, was recognized for using 200,194,600 kWh annually, despite this representing only 48 percent of its annual energy consumption.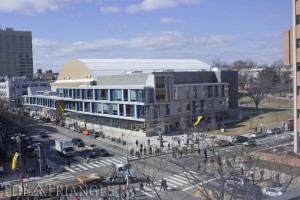 If the list ranked schools in order of percentage of green power used rather than total kWh used, Drexel would tie for third place with Carnegie Mellon University, Oregon State University and American University, which all use 100 percent green power, following only Western Washington University and Georgetown University, which use 113 percent and 109 percent green power, respectively.
"We're proud of the fact that by having 100 percent of our electric purchases offset by [wind power], we've reduced our carbon footprint, I would say, over 80 percent," Campbell said.
Drexel was one of the first schools to purchase wind power about a decade ago. In the last two years, Drexel increased its green energy usage from 33 percent to 100 percent and was ranked on the top-20 list for the past two years, Campbell said.
"I think it's great that Drexel is showing the world what it can do, but we have a lot of behavioral sustainability on campus to take care of," Nicole Koedyker, president of the Drexel Sierra Club and a junior studying business administration, said.
Koedyker named recycling, composting, reusable bottles, and the Sierra Club's newest initiative, "Meatless Mondays," as areas of sustainability where Drexel can improve.
"While we may be investing in local energy, Drexel's endowment may still contain some of the top 200 fossil fuel investments," Koedyker said. "We need to divest from fossil fuels altogether, which we've done operationally but not financially, so Sierra Club is launching the Divest Drexel campaign this March."
Drexel is initiating efforts to incorporate solar energy into its green power usage through upcoming participation in the Keystone Solar Project located in Lancaster, Pa. Drexel will help fund the building of a solar farm in Lancaster. The project will allow Drexel students and faculty to be part of the whole process with in-depth access to videos, documents, designs and plans not otherwise available in the classroom. They will be able to involve and define career paths in building solar energy.