The Drexel University Police Department earned accreditation from the Commission on Accreditation for Law Enforcement Agencies at an awards banquet Nov. 19, making it one of just 53 college and university police departments in the nation to be recognized with this honor.
At the event, held in Colorado Springs, Colo., the Drexel Public Safety Communications Center also earned CALEA accreditation, making Drexel the only university in the world with both an accredited police force and communications center.
"Achieving [both] CALEA accreditations … validates the University's unwavering commitment to achieving professional excellence," Domenic Ceccanecchio, senior associate vice president for Drexel Public Safety, said.
According to Ceccanecchio, these accreditations will help the 3-year-old police department achieve progressive development, ensure operational proficiency and inspire public confidence.
CALEA representatives visited Drexel June 4 for a voluntary accreditation inspection of the police department, Ceccanecchio said in late May.
"We decided to go for both of these accreditations at the last minute, which is pretty unusual from what I'm told," he said.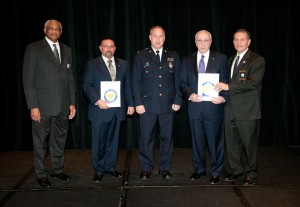 While inspectors visited campus in June, the overall accreditation process has been in the making for Drexel for over two years. In fact, the University's police procedure directives were written by Drexel Public Safety based on 462 CALEA standards for law enforcement and 218 for communications.
"When we set out to establish the Drexel University Police Department in 2008, our goal was to develop a dedicated, professional, fully recognized law enforcement agency that would deliver the highest level of service to our community through best practices and cutting-edge technology," James R. Tucker, senior vice president for Student Life and Administrative Services, said.
To earn the accreditation, DUPD and DUPSCC held trainings and assessments to prepare for the onsite inspection. CALEA representatives reviewed written policies and interviewed and toured Public Safety facilities.
"Although the CALEA accreditation process [was] difficult and challenging, the rewards for the agency, the University and the community are great," Drexel Public Safety Accreditation Manager Stratis Skoufalos and Director of Operations Joseph Spera wrote in a joint statement.
CALEA has accredited over 600 law enforcement agencies worldwide since its inception in 1979.
"Having a fully accredited police force and communications center to serve Drexel's campuses and surrounding neighborhoods is a huge step along our path to becoming one of the most safe and desirable urban campuses in America. I am truly proud at what our talented professionals from the Drexel University Police Department have accomplished," President John A. Fry said.
In addition, Drexel ranked fourth in the nation for safety among U.S. college campuses by Security Magazine for 2010.
For more information about Drexel Public Safety, visit drexel.edu/publicsafety.