Drexel University hosted the second annual Chem Wars at Drexel Park April 11. Organized by the University's chapter of the American Chemical Society, the Chem Wars pitted six Philadelphia area schools against each other in four chemistry-related events. First place went to the University of Sciences, and Drexel University came in second.
The first Chem Wars was held at Temple University in 2014. Most of the guidelines and events established the previous year were carried over to this year's games. Even so, a notable change from Temple from the guidelines and events established the previous year were the spirit, best dressed and best sportsmanship awards, won by USciences, Widener University and La Salle University, respectively.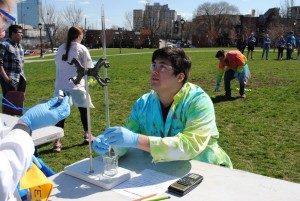 Heavily involved in the planning for the Chem Wars was the president of Drexel's ACS chapter Stefanie Farrell. "We met with six schools, basically, since February, planning this whole event; and then our job was just to carry it out, order all the supplies, and get the games together," she said.
The schools participating were Temple, USciences, Arcadia University, Widener, La Salle and Drexel. Each school was represented by a team of 10 chemistry students, many of who were also members of their schools' ACS clubs. The game consisted of four events, dimensional analysis, molecule building, electron dodgeball (which is what it sounds like) and the titration relay.
The relay, in particular, proved to be a favorite, which, according to Farrell, had four legs to it. "The first one was to balance five equations," Farrell said. "So the person had to run up to their equations and run back. The second was Particle in a Box, so we got these buckets and we threw tennis balls, and you had to catch the tennis ball in the bucket, basically. The third one was to calculate how much titrate you would need for your titration, and the final leg was actually titrating an acid with a base."
Gina Vitale, who was recruited to the Drexel team as a member of the ACS club, said that carrying out a titration is "difficult to do outside." Vitale added that the ACS and the Chem Wars "are really cool programs and, definitely, more people should do them."
The Chem Wars, besides being a chance for chemistry students to compete and get to know one another, also raise donations for a charity of the students' choosing. Every participant paid a $5 registration fee upon entering the competition. Farrell said, "We raised $305 for the Ronald McDonald House. That's the charity that they chose last year, so we continued that."
Including team members and spectators, one hundred people or so turned out for the Chem Wars, a sizable crowd to witness Drexel's team earn second place, right behind USciences.