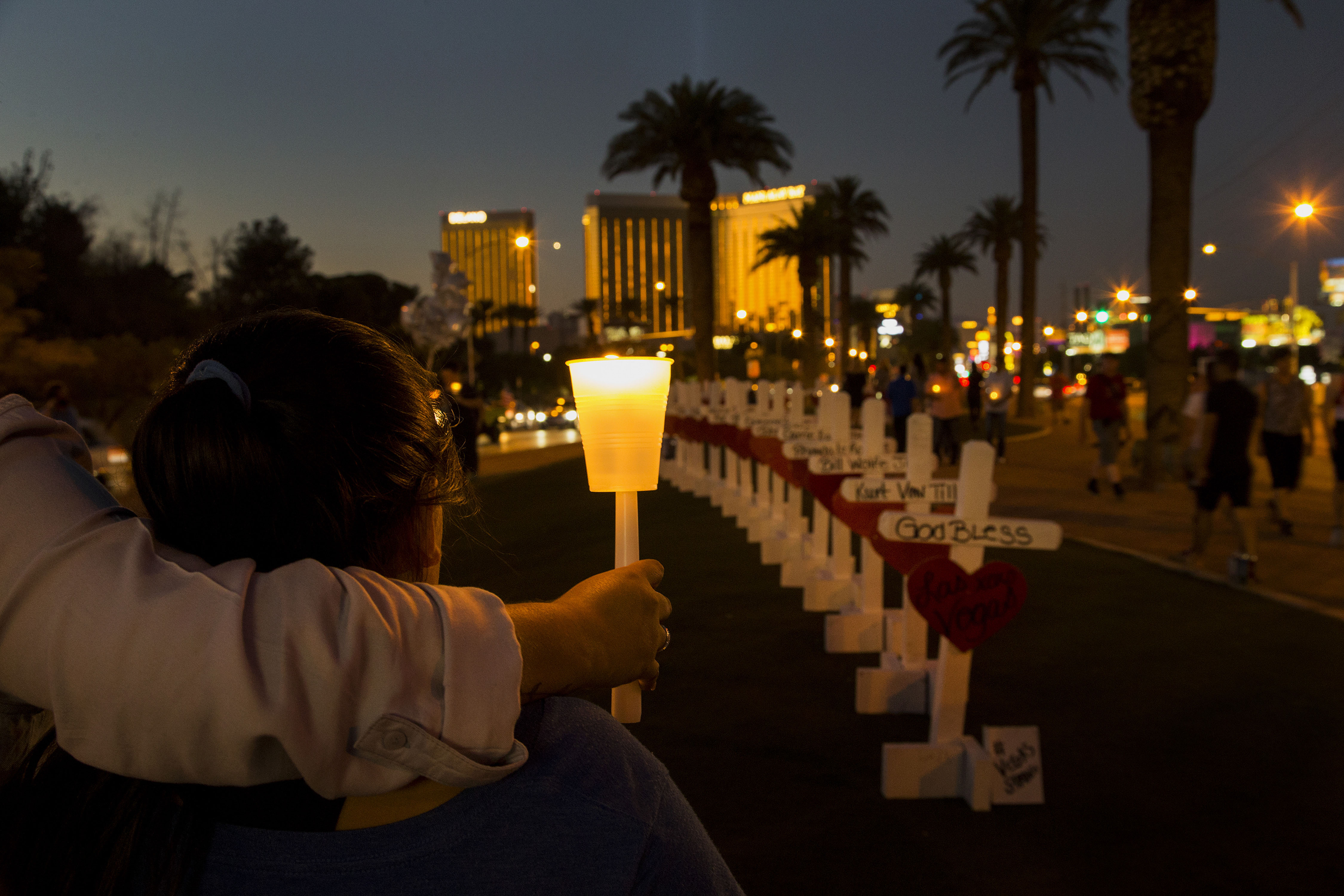 When trauma surgeon Deborah Kuhls saw the influx of patients at the University Medical Center of Southern Nevada the night of Oct. 1, all she had been told was that there was an active shooter.
"As the scene was unfolding at first, we had no idea that it would turn out to be the largest firearm mass casualty incident in recent civilian time," Kuhls explained.
Kuhls received her medical doctorate from Drexel University (then the Medical College of Pennsylvania) in 1993. She is now a professor of surgery at the University of Nevada, Las Vegas School of Medicine and a medical director of the Trauma Intensive Care Unit at the University Medical Center of Southern Nevada.
On the night of the shooting, prior to the trauma director's arrival, she was the senior surgeon at the hospital.
"We're the state's only Level One trauma center," Kuhls said. "We saw over 100 patients, and we admitted over 50."
She personally treated dozens.
On a small scale, she said, this is what trauma surgeons do. It's not uncommon for groups of three to five people to come to the hospital with injuries from a shootout. But the magnitude of the injuries was not the only distinguishing factor that night.
"I think the other difference is really, this is an intentional act against a large group of innocent people," she elaborated.
Many traumatic injuries, she explained, are born of personal disputes. For instance, two guys get into a fight and decide to settle the matter with violence. The incident in Las Vegas was markedly different — the more than 500 individuals injured in the shooting committed no known provocation.
On the faces of patients and their families, Kuhls said, the terror was unmistakable.
"Those that survived, generally speaking, their physical injuries will heal. The question is really whether their emotional injuries will heal," she explained.
According to Kuhls, free psychological help has been made available to anyone in her community who needs it, and it is being utilized. However, she doesn't believe that the lasting impacts of the shooting will be limited to the Las Vegas region or even the U.S.
"This emotional trauma is going to be dispersed throughout our country, and I'm sure abroad as well. Unlike a lot of the other mass casualties, which are equally horrific, this one happened at a venue where people had flown in and driven in from all over … and they were victimized," she said.
For many, the task of treating the victims of the shooting, as Kuhls did that night, would seem incredibly daunting. When asked if it was difficult to compartmentalize during that type of situation, Kuhls said that's not really how it works.
"I don't think we look at it quite that way … We know that we need to keep a level head and composure so that we can take care of our patients. If we become overwhelmed emotionally, then we lose our ability to be objective in the evaluation and treatment of our patient. And so we don't think of it as compartmentalizing," she said.
"I think that even the bystanders, they did acts of heroism that, I think if they sat down and thought about it in advance, they would wonder whether they could do it too," she continued. "But they did … there was an urgent need, and they acted."
She described one patient who came in with a belt around his upper thigh as a makeshift tourniquet. He told her that his life had been saved twice — first by the bystander who placed the belt on his leg, just above the knee, and then by the second person who moved it to the correct position above the wound.
The same excellence of character, she said, was evident in all of the medical personnel who stepped up to help however they could. She emphasized that successful trauma surgery is never an individual feat — to save a life, it takes a village.
"Everybody did 200%. People came in who heard about it on the news or otherwise, even before they were called, and we had nurses, doctors, anesthesiologists, social workers, radiology techs … everyone helped, in a really significant way," she added.
Perhaps the most touching aspect of the incident, Kuhls said, was the way the community rallied to show support.
"The next day [following the shooting], the United Blood Services set up a blood donation drive right across the street from the hospital — when I was there, there were at least 500 people waiting," she noted.
They didn't forget about the medical professionals either. The generosity shown to the hospital staff, Kuhls indicated, was stunning.
"The outpouring from the public was unreal. Thousands of cases of water were donated. I think we're up to 20,000 pizzas," she laughed.
While the support immediately following the incident was heartwarming, Kuhls is still focused on the long term goal of preventing firearm-related tragedies. As the chair of the Injury Prevention Committee for the American College of Surgeons committee on Trauma, she and others are examining ways to reduce firearm injuries, which are responsible for nearly as many deaths in the U.S. as motor vehicle accidents.
Kuhls and her colleagues in the ACS advocate for a number of programs, including one called Stop the Bleed, which is a course for potential bystanders on how to provide aid for the wounded. The ACS also supports initiatives related to violence-based intervention, safe storage of firearms and other prevention strategies.
Since the shooting, Kuhls said her has life has not been the same. However, at the end of the day, she indicated that she takes solace in the work that she and her colleagues put forth during that tragic night.
"We still have some patients in house, but not many," she said. "Those who had survivable injuries survived — we're really happy about that. Because we want to do good. And that gives us a lot of comfort. It definitely gives me comfort."
More information on Kuhl's work with the ACS regarding firearm injury prevention can be found at facs.org.