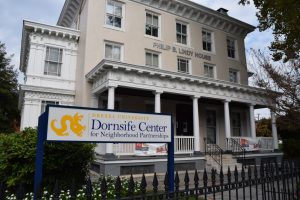 In 2013, Philadelphia residents faced the closure of 24 public schools.
The closure affected students ranging from the elementary to high school levels. However, in an attempt to offset the loss, the Science Leadership Academy opened a middle school branch at the Dornsife Center, partnering with Drexel University.
Science Leadership Academy Middle School is a part of the School District of Philadelphia's Innovation Network — a 2015 initiative that grants autonomy to curriculum, professional development and scheduling.
"My hope is that SLA-MS is seen as one example, among many, that the School District of Philadelphia should be viewed as a place of families, students, and staff that are excited to be doing steady, hard work that is education," Principal Timothy Boyle wrote in email.
The month-old education powerhouse that is temporarily located in Drexel's Dornsife Center for Neighborhood Partnerships is unprecedented.
"SLAMS is completely different from all of my other teaching, as every subject area is project-based learning, along with students having their own time to explore and learn about topics of interest to them," Joe Alberti, a fifth-grade teacher and former Drexel University instructor, said.
The school is inquiry-driven and project-based without admission requirements; the school's prioritization of the community sets it apart. At the foundation of lesson planning are three essential questions: "What makes community work? How do I impact my community? How does my community impact me?"
SLA-MS has a strong sense of community and urge to get others involved. While teachers are attending professional development workshops, university partners provide mini-courses for students – exposing them to various disciplines including laboratory science, cooking, dance and art.
"The hope is that SLA-MS relationship with Drexel will serve as a scalable, replicable model of how public schools and universities across the city can mutually benefit one another," Boyle said.
The cooperation of university partners isn't the only thing cultivating community at Science Leadership Academy Middle School. Advisory has been described as the glue that holds life at SLA-MS together. The advisor serves as the student's chief advocate in the building, helping them to productively navigate middle school while also being a reliable point of reference for families.
The small school of 88 students looks forward to opening up a new facility that will house grades five through eight. However, in the meantime, it is particularly looking forward to accepting applications for the 2017-2018 school year.