Donald S. Siegel, dean of the School of Business at the University at Albany, shared his vision for the LeBow College of Business with current Drexel faculty and students March 6.
Siegel is one of two finalists being considered to be the new dean of LeBow. The other, G. "Anand" Anandalingam, is currently serving as the dean of the University of Maryland's Smith College of Business.
The two were chosen after a lengthy application and interview process led by a selection committee put together by Provost Mark Greenberg. Representatives on the committee were not limited to LeBow and included professors, students, and deans from other colleges.
"I think they're trying to get a fair representation of people from all different parts of the University," Vibhas Madan, who served on the committee and is also head of the Department of Economics, said.
Siegel was the first of the two to present his vision for LeBow. Anandalingam will have the same presentation opportunity Thursday, March 14.
"I don't need a microphone; I'm from Brooklyn," Siegel introduced himself. He joked in the beginning of his presentation that he had two majors when he attended Columbia University for his undergraduate studies: economics and tennis.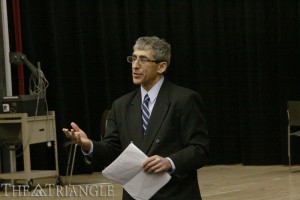 "Academics are like tennis players. They're very talented, bright, energetic. But tennis is generally not regarded as a team sport. You have to be a manager in a situation where the individuals may not think of themselves as being part of the team," he said.
Siegel has worked with offshore hedge funds and has conducted research about academic and university entrepreneurship. He placed a large emphasis on his belief that fundraising is vital for the success of an institution, and he explained that these things all helped mold the way he thinks about research, teaching and service.
"I don't think you can have a world-class university without a world-class business school," he said.
He broke down his three goals for LeBow and his tactics for reaching them. They are to increase resources available to students and faculty, to raise the reputation of the school and the return on investment, and to take advantage of Drexel's strategic location. He also emphasized collaboration, especially between colleges at Drexel but also with other universities in the region.
"My first principle is flexibility. I think business schools have to be nimble. They have to work with partners to advance [their goals]," Siegel said.
Another theme of his lecture was fundraising and engaging alumni.
"It's important to engage the alumni," he said. "I think [Drexel has] a really great opportunity to do that, given how much value is added in the educational process here. That's what [alumni] really care about." He said he believes that alumni are most interested in donating to entrepreneurship and to the students, so he wants to tap into that resource to better serve LeBow.
Siegel also spoke about his plans to enhance the research culture at Drexel. He acknowledged that colleges are very political institutions and that to succeed in his potential job as dean, he'd share the governance and leadership of the college with the faculty.
"At the end of the day, it's the professors who do the teaching, who advise students, who do research, who do all the things that enhance the educational value. It's very important that the administration listen to the faculty and really solicit feedback and use it," he said.
If chosen as the new dean, Siegel said he plans to establish collaborative relationships between LeBow and other strong research universities worldwide.
"I would use my network to make that happen. I'm talking about … the leading science and engineering schools worldwide," he explained as a way to take advantage of the globalization of business education. He described himself as the Willy Loman of entrepreneurship.
"I'm always selling it," Siegel said. He went on to explain that the idea of an entrepreneurial university has exciting opportunities in research, teaching and service.
To aid in the selection process, LeBow hired Korn/Ferry, a search firm that specializes in academic recruiting. Because the firm is familiar with the academic market and knows who is looking for a new position, it can help match potential candidates with institutions looking to hire. An ad was also distributed, and interested contenders could apply without being solicited by Korn/Ferry.
From a stack of more than 30 applications, the search committee had the task of narrowing it down to a short list of between 10 and 15 candidates to interview.
"The hardest part is looking at candidates from varied backgrounds," Madan said, but he explained that the committee didn't struggle too much to agree on decisions. "There were differences in terms of people's preferences, but coming to a consensus was not super hard. Most of the committee was pretty much in sync," he added.
"Both of these guys satisfy the main priorities of the school and the University. Their ideas fit with the strategic direction of the University. That was one of the criteria [we looked for]," Madan said.