Drexel pre-junior Sage Cifaloglio will be cheering for a team other than the Dragons this fall after being selected to join the Philadelphia Eagles cheerleading squad.
Cifaloglio, a business administration major currently on her second co-op at Tarte Cosmetics, was one of eight "rookies" to make the cut and join the Eagles cheerleading team after many rounds of tryouts. First, she attended two pre-audition workshops that told the women auditioning what to wear and what the judges were looking for. The workshops also offered an opportunity to speak to veteran cheerleaders. After the workshops, the open audition helped to eliminate some of the 300 women who showed up.
After the open audition, Cifaloglio said a second cut was made that same day, and a few days later, the judges revealed which women had made it to the semifinals.
"The semifinal auditions were held at the NovaCare Complex, where they had judges as well as Eagles season ticket holders in the audience to help judge the audition," Cifaloglio wrote in an email.
At the semifinal auditions, Cifaloglio said the judges narrowed down the selection to 60 women: 30 current cheerleaders and 30 potential cheerleaders. These women then went on to compete at the Kimmel Center for the finals, where they danced, modeled and answered interview questions. The finals were broadcast live on the Eagles' website. The next morning, Cifaloglio found out that she made the squad.
"It was such an amazing feeling. … I felt like it was such an accomplishment. I couldn't be happier," Cifaloglio said. "I had been wanting to try out for about two years now, and I knew I needed to go through with the auditions or I would always wonder."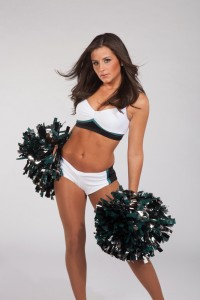 So far, Cifaloglio said she has already done a few appearances as an Eagles cheerleader. Early in May she took trading card pictures, and she traveled to the Bahamas for a calendar shoot later that month.
As for commitment, Cifaloglio said that she and the rest of the squad would be cheerleading part-time at every Eagles home game. Time management, she said, is important because she has to balance school, cheerleading and co-op. She also said that organization will be key, and she will need to stay on top of her coursework.
This challenge, however, is not new to Cifaloglio.
"I am basically going to balance my schedule the same way I did with the dance team, only it will be an NFL team instead of Drexel," Cifaloglio said. "Since I started dancing when I was so young, I needed to learn at a very early age how important time management [is] and how to make my schedule work best."
Cifaloglio was indeed young when she began dancing, starting at the age of 2 and continuing to dance for different competitive teams throughout high school. Even though she knew that she wanted to dance in college but didn't want to major in dance, she still applied to schools that had dance teams. After being accepted to Drexel, she tried out for the dance team and made it.
"I have had the most amazing experience being on the Drexel dance team, and I have met so many great people," Cifaloglio said. "I have loved every minute of it, and I know that I am going to miss being on the team next year, but at the same time I am beyond excited to see what being an Eagles Cheerleader has in store."
A native of southern New Jersey, Cifaloglio said she grew up in a family that has always supported Philadelphia sports teams. That's why she said the Eagles hit close to home. As for what to expect from cheerleading this fall, Cifaloglio is preparing for everything.
"Although I am sure some of the tasks that are required of cheerleaders are ones I am used to, dealing with the brutal cold of football games is definitely something I am going to need to get used to," Cifaloglio said.