Representatives from Drexel's Traditions Committee announced Jan. 15 that Waka Flocka Flame, Porter Robinson and Flosstradamus will be performing Jan. 26 at Drexel's Homecoming Dance Party 2013.
David Hunt, a junior studying business administration, along with Emmy Levine, were in charge of marketing for the event. Hunt offered some insight into the planning process, explaining that finding an artist or artists to perform is a complicated process. The Traditions Committee has the challenging task of trying to reconcile budget constraints with the demands of musicians, negotiating with agents, and trying to find and secure a lineup for the night that will put on a good show for Drexel students.
"It really depends on what kind of budget we have, who we'll be able to get. And the major basis for that is the Drexel population. So what are the students into? What are they listening to at parties?" Hunt said.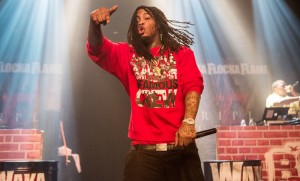 The committee aims to create a sense of community on campus and provide students with good events that they'll remember from their college years. Hunt said the point of homecoming was "[t]o foster a tradition within the campus. To really establish some type of culture. Drexel's in the city; we don't have that suburban feel that a lot of these huge colleges do, that community. So that's really what it's about."
After weeks of anticipation and advertising, the lineup was announced officially online Jan. 15 at 11:30 p.m. on Drexel's homecoming website. The committee also hosted a "VIP meeting" in Ross Commons at the time of the announcement and shared the news in person with "influential student leaders," according to the email invitation.
Students are having mixed reactions, but there seems to be a general consensus that the dance party will be fun, regardless of the performers' genres.
"I credit Drexel for getting up with the times and realizing that this genre of music is going to be popular. It'll receive a lot of support. I like a couple of the artists, not all of them, but [homecoming] is always fun," Eric Greene, a pre-junior in the physician assistant program, said.
Even Marcus Kunkle, who admitted to strongly disliking Waka Flocka Flame's music, said he might go to the concert. "I play music, and I despise Waka Flocka Flame. It's technically music because it's organized sound. I'm pretty tolerant of music, but he's just … lyrically and musically, completely simple. I actually only know who Waka Flocka is, so I can't say anything about the others. I think it'll be a good time for students in general," he said.
The budget for the concert is approximately $140,000, which includes allocations for marketing, production, paying the artists, and other event costs. Various colleges at Drexel often contribute to this fund, paying for advertising banners to be hung throughout the Armory during the event.
The concert is scheduled for Saturday, Jan. 26 at 8 p.m. in the Armory. Doors will open at 7 p.m. Tickets are $10 for students if they are bought online before the night of the show and $15 at the door. More information can be found and tickets can be purchased at dhc13.com.