The DAC Pack confirmed that this year's Midnight Madness, an annual celebration kicking off the basketball season, will feature a performance by artist Childish Gambino Nov. 1 in the Daskalakis Athletic Center.
Those who are not familiar with the American rapper known as Childish Gambino may be more familiar with the artist by his actual name, Donald Glover. Glover is not only a rapper but also a writer, actor, comedian and producer.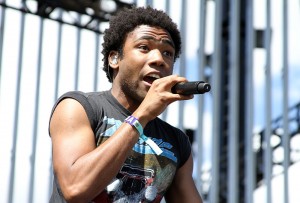 Glover has scripted well-known shows like "30 Rock" and currently plays the role of Troy Barnes on NBC's series "Community."
Some of his more popular songs include "Heartbeat" and "Freaks and Geeks." His 2012 mixtape "Royalty" featured collaborations with big names such as Chance the Rapper, Beck and Upper Darby native Tina Fey.
The rapper recently announced the completion of his upcoming sophomore album under a major record label, and he debuted some of his new music at The Pennsylvania State University's Homecoming on Oct. 6.
The dynamic performer will not be the first celebrity hip-hop artist to appear at Drexel's annual basketball kickoff event; last year's headliner was singer Dev. This, however, will be the first Midnight Madness that is not free for Drexel students. Tickets can be purchased on ticketleap.com and are $10 for Drexel students and $20 for guests (plus additional online purchasing fees).
The DAC Pack, Drexel Athletics, Student Affairs and the Student Activity Fee Allocation Committee have been preparing for Midnight Madness since June.
In order to pay for the entire event (including security, stage costs and the performer), the committee had to spend more than its allocated funding. David Morrison, a senior studying mechanical engineering and president of the DAC Pack, said he feels that extending the budget will be worth the new admission fee.
"There has been some expressed disappointment with concerts in the past from Drexel students. I think students will be willing to pay the extra money for someone they would really enjoy seeing," Morrison said.
Many Drexel students seem to be in consensus with Morrison. Surveys taken at New Student Orientation illustrated that students would be willing to pay for tickets to see a more popular performer, Morrison said.
Choosing Childish Gambino as the headliner was not a random decision; it was a response to student preference. Polls were taken through the DAC Pack Facebook page, and participating Drexel students ranked the rapper high on a list of most desired performers.
Midnight Madness has never been a sold-out show. The DAC Pack hopes that by presenting a concert that students are excited to attend, Midnight Madness will see all 3,000 seats of the DAC filled for the first time.
Josh Grimes-Avery, a sophomore studying finance and marketing, said he will be attending the concert. Grimes-Avery said he was not dissuaded by the admission fee, and although he attended last year's event, he is more eager this time around.
"I recently discovered 'Royalty' and really liked the album. I was excited when I heard [Childish Gambino] was coming because he is relatively renowned and also really lyrically talented," Grimes-Avery said.
The musical performance is not the only purpose of Midnight Madness. The annual event serves as the kickoff for basketball season. Attendees will be introduced to both the men's and women's basketball teams. Morrison encouraged Drexel students to come out Nov. 1 for a chance to display their school spirit:
"Athletic events at every school are an easy way to get involved and be proud of your school. Basketball is one of our main sports at Drexel. [The event] definitely caters to underclassmen but also gets the entire student body excited for the season. Hopefully everyone enjoys the concert as well," Morrison said.
Doors will open at 8 p.m., and the event will begin at 9 p.m. Tickets were available for purchase at ticketleap.com starting Oct. 8.
Drexel student identification must be presented with tickets upon entering. All guests (maximum of two per student) must be accompanied by a Drexel student. For more information, visit the DAC Pack Facebook page or the Drexel Athletics website.