Collaboratively written by Ian Crumm and Devon Harman
Hip hop artist and rapper Dev, along with opening acts DJ Sliink and Dirty South Joe, performed Nov. 3 at the Daskalakis Athletic Center to rally students for the upcoming basketball season at Midnight Madness. The DAC Pack led the production of Midnight Madness.
DJ Sliink and Dirty South Joe kicked off the event, and then Dev took the stage and performed singles "Like a G6," "In the Dark" and other songs.
"Dev is an up-and-coming star, and I thought she did great. It's cool that Drexel students got to see her before she got too big," Whitney Giraud, a sophomore majoring in business, said.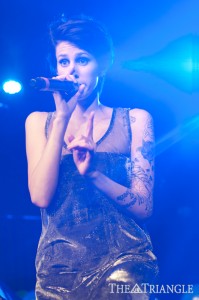 Alyssa Dorval, a pre-junior in the physician assistant program, commented, "I expected it to be a lot more fun, but [Dev] doesn't really have many of her own songs. She was okay, she tried to get the crowd involved, but … it was hard to hear her."
Cait Grady, a freshman nursing student, said, "I only knew her name from some of her singles, but her other songs are catchy."
Students questioned before the event said they came for both the basketball players and Dev. Nicky Perera, a sophomore mathematics major, said, "I say a bit of both, but I think I'm more here for the basketball players."
Following DJ Sliink and Dirty South Joe's performances, Drexel students enthusiastically welcomed the men's and women's basketball teams for the 2012-13 season.
"I thought the introduction for the basketball teams was cool. … I'm really excited for basketball season. … I love going to the games. I went to a lot of girls games before because I knew the coach at [another Philadelphia school], and they are so fun!" Grady said.
After a video of the teams and an energetic introduction, DJ Sliink and Dirty South Joe continued their performance with a surprise appearance from last year's headliner and former Drexel student Chiddy Bang. Chiddy Bang greeted students and posed for photos in the back of the DAC as Dev performed.
When asked about her experience at Midnight Madness, Giraud said, "I don't know much about basketball or Drexel's team, so for them to be introduced to us and to hear their backstory made me feel more connected and involved as a student."
Patrick Kennedy, a pre-junior business major, also attended the event to become more connected and involved with the basketball teams. "I [was] curious because I haven't gone to a game yet, but I plan on going to them for this reason — I want to get more involved with Drexel before I graduate, and Midnight Madness is a big event, so I decided to check it out," he said.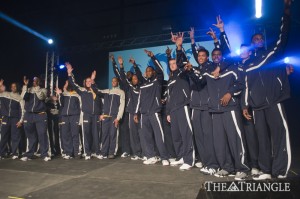 Abby Redick, a junior public relations major and a member of the women's basketball team, thanked the students who came out to the event and applauded both the DAC Pack and the performers: "The DAC Pack and all those involved did a phenomenal job on the entire event, from the videos to setup to organization. I love the ways that they continue to emphasize the importance of supporting your school's athletic programs while incorporating a fun environment. Two thumbs up and a round of applause for all the performers, and again, huge props go to the DAC Pack for putting all this together. Go Dragons!"
Overall, students involved in the planning of the event were pleased with the outcome. Last year started a new tradition of having a musical guest.
"This was the second year we really threw a major concert. The logistics this time were a little bit smoother because we had a year of experience under our belts," Joe Finch, vice president of the DAC Pack, said.
Matthew Morabito, president of the DAC Pack, added, "The team did an outstanding job with everything. … I thought Dev really engaged the crowd and got everyone really excited."
The men's basketball team's first home game will be Nov. 15 at 7 p.m. versus Illinois State University. The women's home opener will be against Saint Joseph's University Nov. 14 at 7 p.m.