The Drexel University Concert Band had its first-ever performance at the Kimmel Center Feb. 29, playing a wide selection of music by African-American composers representing a time span of almost a centuary.
Director Mike Moss selected various pieces by Valerie Coleman, Roger Dickerson, Oliver Nelson, Clarence Cameron White and others for the band to perform.
"I want the Philadelphia music community to know about this work of black composers," Moss said. "I thought it wasn't enough to do it well [at Drexel]. Bringing it to Kimmel means saying to the community that we're the vehicle for representing the music and the music that's important."
Two of the pieces performed were newly commissioned works by award-winning composer Valerie Coleman. As part of a Drexel initiative led by Moss, Coleman has created songs for 25 university bands.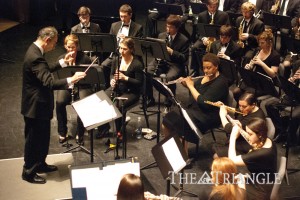 "Umoja" is an exercise piece that Coleman originally wrote for her woodwind quartet, Imani Winds, and expanded to be played by a 60-person concert band. "Roma" is a much more evolved piece that starts slowly, turning into a groove that varies and shifts. The piece is over 10 minutes long, the longest of the night.
The concert also showcased works from noncontemporary artists.
"There seems to be this wide range of activity of a wide range of really successful pieces that people know nothing about," Moss said.
Drexel's University Chorus and members of the Drexel University Gospel Choir joined the band for Adolphus Hailstork's "Look to this Day." Perry Brisbon, a program instructor for Drexel's performing arts department, sang baritone to Margaret Bond's "Dream Variation."
Christine Piccirillo, a freshman majoring in entertainment and arts management in the Antoinette Westphal College of Media Arts and Design and flutist in the band, discussed what it was like to perform at the Kimmel Center.
"It's almost nerve-racking to perform in a big venue, and a professional one, because there is a higher standard set. But it's also nice to know that you're considered on the same plane as other professionals," she said.
Moss chose the Perelman Theater at the Kimmel Center primarily for its downtown location. The band was able to rent out the theater thanks to Drexel's performing arts budget, fundraising and a large grant. Moss fronted a portion of the cost himself.
Moss began research on classical music by African-American composers in 1990, and he found it is an area with which many people are not familiar.
"My next step after discovering there was a lot of good music [by African-American composers] is to want the musical community to know that," he said.
Typically, students have the full 10 weeks of the term to prepare for a performance, but this time they had to be ready by the end of week 7.
Moss reauditioned every member of the concert band, something he had never done before, to ensure they would be able to learn the pieces within the new time constraints and play them with accuracy.
"The necessity to perform week 7 and 8 meant that we had to drive the preparations really hard, and the level had to go up," Moss said.
With only two rehearsals per week, practices became increasingly demanding, according to Moss.
"I told them, 'We have this task, and we have to do this,' and the students responded like professionals."