Anthony Jeselnik, a comedian and host of the television series "The Jeselnik Offensive," gave a one-hour stand-up comedy performance May 20 in the Main Auditorium, sponsored by The Good Idea Fund. Jeselnik's jokes focused on his personal stories, others' tragedies and the University.
Jeselnik is most known for hosting Comedy Central Roasts of Donald Trump and Charlie Sheen. He was the first stand-up comic to perform on "Late Night with Jimmy Fallon," and he became a writer for the show. He has also released two live albums, "Shakespeare" and "Caligula."
"Drexel is like Temple [University] for smart kids, [and] like [the University of Pennsylvania] for people whose parents didn't go to Penn," Jeselnik said as he opened his performance.Jeselnik's family and girlfriend were topics of his ironically unexpected jokes.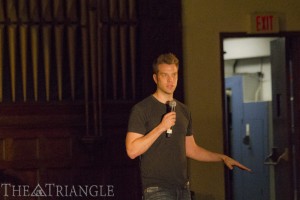 "My mom actually could have been on one of the planes that crashed on 9/11," he paused. "I think."
"I lost both of my grandparents in a Holocaust … museum. After the World War II, my grandfather was a Nazi hunter, mostly deer."
"I learned a lot from my mom and dad, a lot," Jeselnik said. "I never forget the first time I got a bad report card in school. I brought it home, I gave it to my dad, and my dad beat me, beat the hell out of me. But I learned something. [Because] the next time I got a bad report card at school, I brought it home and I gave it to my mom. Let her take the hit."
Jeselnik's girlfriend is never an exception when it comes to his jokes. "My girlfriend punched me in the face as hard as she could, right in the face as hard as she could. I didn't do anything about it; I didn't say anything about it. I just turned around and left the room. But in my head, all I was thinking was, 'Ha ha, now we're even!'"
Continuing with the flow about his girlfriend, Jeselnik joked, "I'm just happy to be on the road, get away from my girlfriend for a while. My girlfriend is really mad at me right now; [she] said I killed all of her house plants. She said, 'Anthony, I'm going out for two weeks. Give each one of these half a cup of water every other day.' But I'm a dude. All I heard was 'two weeks' and 'cheat on me.'"
Jeselnik said that sometimes he hears people say that women who come to his show just hate him. He replied, "No. Stupid women hate me in my show. Smart women don't come to my show."
Jeselnik is known for his dark comedy style, in which he draws laughter from solemn subjects or even tragic events.
"I like Philadelphia. It's a safe city." The auditorium burst into laughter. "I'm serious, when was the last time you guys even had a marathon?"
"I'm a comic. I try to make people laugh. And I'm pretty good at it sometimes. Like the day of the Aurora shooting in Colorado, the movie theater shooting, I tweeted, 'Other than that, how was the movie?' Perfect!"
"I make jokes about the worst things in the world. You're never [going to] see me tweet out: 'Hey Boston, prayers to everyone.' That's beyond worthless."
For instance, according to Jeselnik,: "One of the worst things I did, … was that I tweeted a joke about the Boston marathon … the day of the Boston marathon!"
He continued: "So the day of the Boston marathon I thought I got it. I knew how to do it. You just don't make fun of the victims and sneak for something that is more worth than that. So I tweeted: 'Guys, today there are some lines that should not be crossed, especially the finish line.' And again, I thought I nailed it. I did not. People were very upset."
He said the president of Comedy Central was upset. "Oh really? Small f—ing world. Everybody dies … in Boston," Jeselnik joked.
Jeselnik's performance ended with a question-and-answer session. He credited Steven Wright as his favorite comedian. He also shared how it feels to be second to Daniel Tosh on Comedy Central. "I feel better than having to be Daniel Tosh," he said.
Prior to Jeselnik's appearance was 30 minutes of stand-up by Andy Haynes, a comedian who has appeared on television shows such as "Conan," "Last Comic Standing" and "Late Night with Jimmy Fallon."
Olivia Klingbeil, a senior psychology major and coordinator of the event, chose Jeselnik as this year's act.
"I was asked by The Good Idea Fund to help select a speaker to come to Drexel. I'm a big fan of stand-up and thought the student body would enjoy Jeselnik's comedy," Klingbeil said.
According to Klingbeil, the event was a huge undertaking but turned out very well. "The Main Auditorium seats 800 people, but we doubted we'd get that many. We had around 400 students show up, which is a great turnout as far as I'm concerned," she said.