Sir Salman Rushdie, award winning and internationally recognized author, spoke at the inaugural College of Arts and Sciences Distinguished Lecture Series May 4.
Rushdie's appearance filled the Main Auditorium with students and faculty eager to hear the world-renowned author speak about the role of public and private life in modern literature.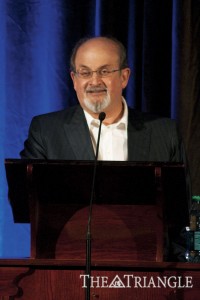 Donna Murasko, dean of the College of Arts and Sciences, mentioned President John Fry's goal for Drexel to be recognized as a comprehensive research university as an incentive to host Rushdie at the inaugural event.
"When you think of Drexel, you often think of engineering. But great universities must have a strong, vibrant and visible college of arts and science. We have worked over the last 10 years to bring our message to the national and international community, and today there is no one better to begin a tradition of a lecture series to a globally prestigious college than Sir Rushdie," Murasko said.
Lauren Boyle, who graduated from Drexel in 2010 with a degree in English, praised the college for getting Rushdie to come to campus. Now pursuing a master's degree at La Salle University, Boyle returned to campus for the opportunity to see the famous author.
"He is one of the few writers alive today whose books – like "Midnight's Children" and "The Satanic Verses" – will be still be read 100 years from now," Boyle said.
Rushdie took the stage and quickly lightened the atmosphere by noting that writing a good book and giving a good speech are different things."It is courageous of you all to come and watch a writer speak," Rushdie said.
Jennifer Yusin, associate professor of English and literature, knew that the audience would not be disappointed. She has been credited by Murasko for coordinating the event and bringing Rushdie to Drexel.
"I wanted to create an opportunity for students to think about our world and its complexities. Sir Salman Rushdie has been influential in shaping how we think and question our modern lives. When I asked him to deliver our inaugural lecture, he was excited and accepted the invitation," Yusin said.
Rushdie opened his lecture noting that it was Charles Dickens who started the tradition of writers giving speaking tours, though Dickens' second tour of the United States was so strenuous it contributed to his death.
"The moral is that some writers are very good at speaking but it kills them. So here I am, risking my life — and not for the first time," Rushdie said.
The remark alluded to his 1988 novel, "The Satanic Verses," which caused a global controversy for its depiction of the prophet Muhammad. The novel enraged the religious head of Iran, Ayatollah Ruhollah Khomeini, enough to issue a fatwa, or execution proclamation, against Rushdie in 1989. The incident made Rushdie one of the most intensely controversial and well-known fiction writers in modern literature.
Rushdie told the audience that, except for the very serious threat against himself and his family, the protests over the book had some comical aspects.
"I saw a BBC interview in which a man was swearing me up and down, saying that every word I wrote was complete filth. But when asked about the actual text, he did not only admit he didn't read "The Satanic Verses," but was not much of a book reader in the first place," Rushdie said.
Rushdie characterized the novel during its peak in the 19th century as a means of bringing news to the people. He again talked about Dickens because the social commentary in his writing swayed public opinion and brought reforms to protect the poor in England. He argued that the amount of information available on the Internet today has made this function of literature outdated, but the digital realm often lacks hard facts.
"What you have is a billion opinions and suspect facts. That is good for people who have power and not good for those who want to keep an eye on power," Rushdie said.
Rushdie briefly discussed the daily deluge of news and non-news in modern society. He commented on the silliness of the so-called "birther" debate and even took a jab at Donald Trump. He drew the largest laugh of the night by poking fun at the attention Paris Hilton got from the press a few years ago.
"It's thankfully over now, but I am still amazed how a second-rate hotel in Paris was transformed into a third rate person," Rushdie said.
In other words, he implied that the amount of information available today often prevents us from finding out anything meaningful. At their best, novels can again fill the void and tell us about our world.
Rushdie also talked about the pressures and dangers of writers clashing with politics and government — as proven true by his own own controversial career.
"I think one of the reasons historically why writers and politicians come into conflict is because they both try to offer a vision of a world and propose that it is true and to prescribe to it," Rushdie said.
He used an example from his 1981 novel, "Midnight's Children," in which his character stumbles into a scene of mass murder paralleling alleged crimes by the Pakistani army — an event the government flatly denied ever happened.
"So there I was trying to write a part of my novel where my character sees this event. Just the act of me saying 'this was so' became a political act. But this is how it must be; the writer can give a different voice to the story," he said.
Rushdie emphasized that the role of the novel today is as crucial as ever because it explores the world on a human scale.
"We are the storytelling animal. We are the only animal who tells stories to understand who we are. The novel offers a different, human perspective of the world so that the story isn't hijacked by a single group – whether that is government or religion or anything else," Rushdie said.
Rushdie also urged the audience to read outside their own country and culture. "Literature really allows you to enter into a culture like nothing else. I learned a lot about the American perspective through literature before I ever traveled to the States," Rushdie said. "That kind of understanding is lost, especially in an age when politics and opinion are so divided. We are asked to define ourselves more and more narrowly, and that naturally leads to conflict with others. The more broadly you define yourself, the more you can identify with others. Novels discuss this; novels allow us to understand the emotions and perspective of others – often you will find there is a lot of common ground between cultures."
Rushdie continued, "The novel maintains a human scale to our story. A good novel is propelled by character and at the end of the day the study of character is the most truthful way to figure out what's going on. This is the function of a novel."
He used a surprising yet effective example to prove his point: the Peanuts Comic Strip.
"Charles Schulz never wrote a comic in which Lucy let Charlie Brown kick the football because if he did, Charlie would not be Charlie and Lucy would not be Lucy; the characters were who they were and that is their destiny," Rushdie said.
Alex Muret, a freshman in environmental studies, was surprised to hear Rushdie speak on such an accessible level.
"I'm happy to finally see Rushdie. I was really surprised at his speaking ability. He made a lot of sense and the funny, lighter moments made him very relatable," Muret said.
Borana Hajdinaj, a junior dual majoring in criminal justice and sociology, also found Rushdie's sense of humor surprising and refreshing.
"He is someone who asks a lot of himself, holds himself accountable for his own actions and is critical of the world around him, but at the end of the day he is still able to laugh about it," Hajdinaj said.
While his speech was received with praise by faculty and students in attendance, Rushdie's appearance did not come without a price. Though both Murasko and Yusin declined to specify how much it cost to host Rushdie, Murasko did admit that Rushdie is the most expensive speaker the college has hosted. Yusin credits the student-run Good Idea Fund for lending their financial support toward the lecture.
"Having worked on other lectures with high profile speakers at other universities, I can say that Rushdie's fees are more than fair and a most valuable investment," Yusin said.
Rushdie ended his speech by reaffirming the power of the artist, saying, "Great art — whether it is literature, painting or music — bit by bit increases our understanding of the world: what we know, comprehend, feel and are able to be.
"In order to push the boundaries, you can't sit in the middle of a room. You must go to the boundary and push. There is risk: the artist may fall of the edge and fail. But pushing the limits a little further is that we do. Good artists know this. That is the goal … that is the job."