Drexel's College of Arts and Sciences held its 14th annual Research Days Feb. 17 and 18 in Behrakis Grand Hall. This year, the event was extended to two days for oral presentations and poster exhibitions, with an interesting "Raft Debate" being held for the first time.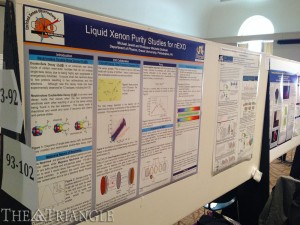 CoAS Research Days welcomed about 125 students as participants who presented their research and about 70 faculty judges from different departments in the college. The research topics ranged from mathematics, chemistry and physics to psychology, communication, history, political science and more.
"Research Day in the College of Arts and Sciences has been a growing and important component of celebrating the success of our students," Dean Donna Murasko of CoAS said."The addition this year of the raft debate added the dimension of making everyone feel like they're at a community event. So while we [are] celebrating research, we celebrate the college as a community."
The first day of the event was dedicated to oral presentations. Eighteen out of 35 applicants had been chosen by a jury for a presentation slot, which allowed them 15 minutes to speak about their projects in front of the judges and the audience. On the second day, participants exhibited their research posters. Posters and presentations were each prized in four categories: natural sciences — undergraduate, natural sciences — graduate, humanities/social sciences — undergraduate, and humanities/social sciences — graduate.
Lloyd Ackert, an associate teaching professor of history and the chair of this year's CoAS Research Days, said, "I'm always impressed and quite startled sometimes even by how in-depth some of the work is and how accomplished it is…I think it is really fascinating. And I think it is really fascinating."
According to Ackert, CoAS Research Days is an opportunity for students to share their ongoing, preliminary or completed research and present it in a short and concise format.
"[Research Days are] a really good help for the future," Alison Novak, a doctoral candidate in communication, culture and media, as well as the first-prize winner of the humanities/social sciences — graduate category, said. "It is a good chance to talk about your research before you have to talk to somebody who is outside the University, so you get a lot of feedback. I'm going to have to defend my dissertation coming up, so I get some ideas of where the questions might be coming from."
Victoria Baccini, a biological sciences pre-junior and first-place winner in the presentation category for natural sciences — undergraduate, provided similar sentiments: "It's just been a really incredible experience. I've learned so much about being able to communicate my research to a wide audience, not just the people in the sciences."
Baccini continued, "I want to get my [doctorate] in genetics so my goal is to do this a lot. So this was like the first step and a big step because I've never done anything like this before. So this definitely gave me the confidence to continue to do what I do."
"The CoAS Raft Debate: A Disciplinary Battle To Save Humanity" was held the second day. The idea was proposed by Associate Dean for Humanities and Social Science Research, Kelly Joyce, after she attended a similar event at Saint Mary's College. The debate was intellectual, thought-provoking and humorous. Nine professors representing nine different disciplines are hypothetically stranded on an island. The challenge was for each professor to provide a three-minute persuasive speech arguing why his or her field was most deserving of escape on the single-person life raft, the occupant of which would ultimately return to the mainland and save humanity. Professors also had an opportunity to give a one-minute speech to reinforce their argument afterward. The winner was determined by audience applause.
Each professor had his or her distinctive way of arguing: by making counterarguments against other disciplines, using classic quotes, or emphasizing the highlights of their fields. In the end, the psychology and biology professors were the winners.
"If you leave biology on this island, none of you will ever get to explore human anatomy. Think about it for a second," Daniel Marenda, a biology professor representing his department, said.
Karol Osipowicz, the professor representing psychology, argued, "Everything that we think can be changed by changing the way we think. And all of the stuff that has been said before, it all revolves around thinking. That's the true human discipline. Figuring out what we think, how we think, why we think, that's psychology and that's the purest thing we can do. And yes, I know we have a philosopher in the room so he's going to tell me that thinking is philosophy. Well, thinking of thinking is philosophy; studying thinking is psychology."
After the debate, Osipowicz said, "I think what students could get out of this debate is that scientists aren't as boring as they seem."
Devon Powers, the professor representing culture and communication, who converted her argument into a song based on the melody of "I Will Survive," said, "It was really fun. It was interesting to see how every discipline sees itself as the center of what we study, so I was really happy to be part of it."
Powers continued, "I think it's really good for the whole College of Arts and Sciences community to come together, because we don't do that often, and really celebrate that kinds of things that we all do in a really fun way. … It's good for people to see what disciplines like communication do and see the faculty and just sort of get a sense of our personalities."
At the end of Research Days, there was a reception and awards ceremony for participants. Murasko said, "I am just so impressed and proud of all of you and just so happy to say that you are all students within the College of Arts and Sciences."
CoAS Research Days not only served to benefit students, but also faculty who were involved. "The faculty who came learned about students outside their departments, and it's so good to [be] judged by both someone in the discipline and someone way out of the discipline. And that's to make students be able to explain their work to a wide range of people, but also to let our faculty know what's going on across the college in terms of research. So it's learning for the students in communication, presentation ideas, but it's also giving faculty a larger view of everything that's going on in the college," Murasko said.
Murasko mentioned CoAS' efforts to increase the importance of research continually. She also emphasized the spirit of community, which she finds difficult due to the wide range of disciplines within the college.
"The event was originally designed as a way to prepare students for University Research Day. That was the initial idea," Ackert said.
The concept has evolved, developed and been refined throughout the years. From simply being a preparation for the University's competition, CoAS Research Days has matured to become a celebratory event for the college to come together.
Looking to the future, Murasko highlighted holding community building events like the "Raft Debate," and possibly expanding the oral presentation section.