A food science class offered last term gave Drexel University students the hands-on opportunity to develop affordable prepared food products for low-income populations in Philadelphia.
Students who partook in the course, titled "Experimental Foods: Product Development," collaborated with the Snider Foundation to evaluate what kind of nutritious foods could potentially be sold at schools and community centers using methods developed in the Drexel Food Lab.
"Our goal was to design foods that — first and foremost — appeal to teens, second, comply with [Supplemental Nutrition Assistance Program] requirements and also Philadelphia Nutrition Standards, and third, which we're working on now, that can be sold at a reasonable price," culinary arts and food science professor Jonathan Deutsch, who ran the course, said.
Deutsch, who also directs the Drexel Food Lab, said these goals align with the lab's mission to prioritize sustainability, nutrition and accessibility.
"Most of our products are better for you, they're better for the earth and they're affordable," he said. "It's all part of an effort to make the food system better for Philadelphians. People don't like to be told what to eat, but to an extent, we can provide options."
He said that there are many opportunities to improve the food system by directly coordinating with food manufacturers, and he explained that the focus on prepared food, in particular, is essential because most Americans are eating more of their calories and spending more of their money outside of the home.
They partnered with Rebel Ventures, a youth-powered nonprofit food business run by Philly high school students, to see what local students are looking for. Deutsch said they soon realized that the supports that students have don't necessarily match what they're eating, and while they might have access to free or subsidized breakfasts and lunches, every student reported consuming a big meal immediately after school, so they determined they needed to provide options for students to consume at these times.
"That's a part of the day that hasn't been looked at as closely," he said.
And moreover, the regulations around the SNAP food stamps are not always the most transparent or reliable, Deutsch explained. While some students may have money to buy food through the program, they often can't use it because of eligibility requirements. For example, he explained, though they can buy sandwiches at Wawa, they can't be toasted since hot food is not eligible, and while they can buy frozen pizzas, prepared slices from a pizzeria do not qualify.
As such, students endeavored to create products that could be purchased with SNAP but still maintained the highest nutritional standards.
Overall, students in the class came up with about eight ideas. Several of these ideas, he explained, took on the concept of customizable bowls, which are becoming increasingly popular as seen through the growing popularity of Sweetgreen, Chipotle and honeygrow — though these options are not eligible to be purchased with food stamps.
Transforming this sentiment in a more accessible and affordable way, culinary arts student Erik Ildefonzo worked with students Jonathon Kitchel and Kwame Amuh to test out potential grain bowl options. Their rice-based bowls hosted a variety of flavor combinations like chicken curry with steamed broccoli as well as fried tofu with julienned vegetables in a ginger vinaigrette, but all options, he explained, have the potential to be impactful.
"This project is important for the Philadelphia community because it is designed to give high school students access to healthier food options that are both convenient, affordable and different from products that are already out there," he said.
This, according to nutrition student Amber Kutcy, is critical because the high school students in their focus group said they would eat healthier foods if the options were available to them, and satisfying these requests can also reinvent the food production process.
"Our food system is so broken," she said. "If we can change the food system by providing convenient, healthy, and delicious foods, it can potentially change the rest of the food choices a person makes in a day and that's really getting to the source of the issue."
Kutcy, working alongside fellow student Natalia Lopez and with help from Chef Richard Pepino, contributed to the development of lasagna bites, which were meant to mimic pizza lunchables in a healthy way. The bites, which included a dehydrated eggplant chip base served with cashew cheese, sun dried tomato marinara, and kale basil pesto dips, were a hit.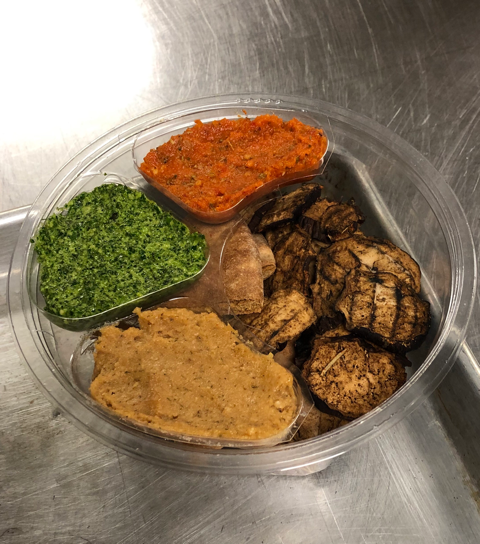 "There were so many great parts of this experience such as working with culinary, food science and other nutrition majors, and seeing how all of our specialties can come together, but the best part was when the student consumer group came in and loved the product Natalia and I designed," she said. "For high school students to truly love the dips along with dehydrated eggplant chips blew me away."
Other options formulated by students included brownie batter chia seed parfaits, a taco meal served in a mason jar and fatayer, a super soft, pillowy bread with various fillings.
Deutsch said they are currently figuring out the next steps for these products, although he explained how he would like to eventually see them available during afterschool programs and community organizations as well as in corner stores or even larger supermarkets.
To roll out the final product beyond this initial development phase, the team is enlisting the help of Jarrett Stein, who co-runs Rebel Ventures, which has already created and sold an inventive product, Rebel Crumbles, in many schools throughout Philadelphia.
"The project serves a model for healthy food product R&D as a collaborative, multi-generational learning experience. High school students, college students, staff and faculty all worked and learned together to accomplish the goal of creating a healthy after-school meal for young people in Philadelphia," Stein said. "We're excited to continue working together to potentially roll out a final product."
These efforts could ultimately help the disconnect occurring with low-income people and EBT benefits, Deutsch said, explaining that it can also aid improved household budgeting and prioritization and even potentially reduce the risks of noncommunicable diseases like diabetes and heart disease over time as healthier options are introduced.
But the benefits of this project go both ways.
Food Lab manager, Ally Zeitz, explained that projects and classes like this are beneficial because they give students a glimpse at what it is like to develop a product.
"It takes a lot to develop a product and it does not happen overnight, or even over 10 weeks. It takes a long time, a lot of listening and persistence to develop a good product, that meets all the needs," Zeitz said. "I hope that projects like this get students thinking about how they can make a difference with their culinary skills and what they learn here in [the Center for Food & Hospitality Management], through the work that they've done in the food lab."
Ildefonzo said he learned many lessons during the process, like how to gather data to pinpoint demographic needs, the importance of pinballing ideas off other people and the vast transformation products undergo during the development process. The best part for him, however, was having the opportunity to solve a real world problem instead of just the basic classroom approach.
"I personally feel that when you learn both inside and outside of the classroom you gain a well-rounded learning experience and an insight to a potential field in your major," he said.
And for some students, like Kutcy, it even made them reevaluate their interests and future aspirations in the industry.
"I found this experience to be extremely rewarding because I am now trying to pursue something related to food product development for co-op. I am testing this out as a co-op to see if it is something I would enjoy for the future, which I never envisioned myself doing in the past," Kutcy said. "This class helped me learn how to take things in strides and really trust a process."
Different sections of the class conquer various real-world problems. Last spring, students worked with Aramark to develop vegan options for U.C. Veg in the Urban Eatery, and previous classes have also worked with companies like Arnold on general branding initiatives as well as offering recommendations to reduce food waste. The class, which is required for culinary arts & science and nutrition science majors, is open to students in all programs, although there is one prerequisite culinary course interested students must also complete.
There are also weekly Drexel Food Lab meetings open to all students on Fridays, where they cook and develop recipes. Interested students can email Zeitz at [email protected].