Arts administration professor Neville Vakharia has teamed up with Partners for Sacred Places to conduct a multi-city study addressing the needs of arts organizations for a space they can call home. A report of his findings from Baltimore was released in February, advocating that collaboration between artists, performance groups and churches can help to integrate more creativity into communities. The creation of this program was the result of a previous version of the study in 2010-2011. Now, Vakharia and PSP have expanded the study to find out if this program is replicable nationwide.
Arts organizations, such as Philadelphia's  , which sits on 16th and Sansom Streets, often struggle to find a place of their own to perform and rehearse. This lack of a location makes it difficult for these companies to serve and be a part of their communities.
Philadelphia's PSP , a national organization that works to promote stewardship and active community use of historic sacred spaces, is the middleman in this situation. Their "Arts in Sacred Places" program helps to match arts organizations like Azuka with "sacred places" like churches that have some extra room.
According to Vakharia, this problem does not exist because of an overall lack of space. Rather, performing artists and organizations often have tight financial limitations and cannot always find an ideal space with their budgets.
"Artists are often the first ones to be part of neighborhood revitalization and then get priced out of their spaces as the neighborhood improves," Vakharia wrote in an email. "The collaboration between artists and sacred spaces provides artists with a home space that meets their needs at a cost that is within their limited budgets. The historic sacred spaces receive much-needed income to support their own programs and care for their aging buildings."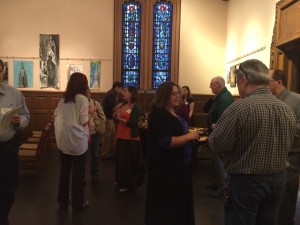 The benefit to this arrangement is financially mutual and creatively ideal for performing artists. Even though they are using spaces owned by religious institutions, the sacred spaces showed no intention of limiting the content that is performed in their space.
"The issue of artistic freedom was a major concern from the artists we surveyed and interviewed," Vakhara explained. "Artists would only seek to use a historic sacred space if their work would not be censored."
The sacred spaces surveyed in Baltimore generally showed no intention of censoring artists' work according to Vakharia, but the issue has come up in Philadelphia.
"We strive to find the right match not just any match between artist and sacred place," Karen DiLossi, director of Arts in Sacred Places, continued. "If the sacred place wants to censor the artist's work then maybe that sacred place isn't the right one for the artist. There are plenty of sacred places in our region and far beyond that are welcoming of an artist's vision and the expression of that mission."
"The issue of artistic freedom was a major concern from the artists we surveyed and interviewed," Vakhara explained. "Artists would only seek to use a historic sacred space if their work would not be censored. Interestingly, the sacred spaces we studied did not have any issues about limiting or controlling what the artists did in their space."
Not all cities throughout the U.S. are fortunate enough to have programs like this, a situation which in part motivated Vakharia to conduct this research.
"Philadelphia served as a sort of pilot for this larger study," according to Vakharia. "My research sponsor, PSP, has created several successful collaborations in Philadelphia between artists who need space and sacred spaces that have space to spare. This research seeks to see if an innovative and scalable program can be developed that can be launched nationally for maximum impact," he continued.
Corey Fedorowich , a junior in biological sciences, is an active member of Drexel Players and has both performed in and viewed shows that made use of extra space in churches. He agrees that this arrangement between church and artist is mutually beneficial.
"Churches don't make use of their spaces all of the time," he wrote in an email. "Making it a place of community is beneficial to both in the end."
The study was primarily funded by the Doris Duke Charitable Foundation via a grant to PSP. Research will finish up throughout the summer, which will lead to two national meetings, one at Drexel, which will feature discussions about how these findings can lead to an innovative solution to the problem. Vakhara is currently continuing his research in Austin, Texas and Detroit.