Drexel's LeBow College of Business team was awarded first place April 12 in the sixth annual Association for Corporate Growth's Philadelphia Cup competition, making it the second year in a row that a LeBow team has placed first in this competition.
The ACG Cup is a hands-on investment banking case competition for students in the Master of Business Administration program. In their success, the LeBow team was awarded a prize of $12,500, and the ACG Cup trophy will remain at Drexel for another year.
LeBow's team consisted of four second-year graduate students in finance: Jie Wang, Mengsu Liao, Benjamin Wuebbenhorst and Yan Zhou. Also on the team was second-year graduate student Jason Zola, who is in the Masters of Business Administration program for marketing and finance.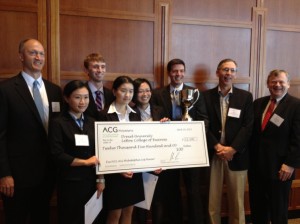 "We decided to form this team together because we already knew each other's skills and would be the best team for this competition," Liao said.
The ACG Cup is split into two rounds. The first is the internal round where teams within each university compete among themselves. There were 18 LeBow teams altogether. During the second round of the ACG Cup, eight universities from the Philadelphia region compete head-to-head.
"It's a lot of work that takes a lot of time and dedication because you really need to have your presentation skills down, your finance skills down, you need to be defending where you are coming from and the decision you are making," Elizabeth Pelberg-Schariter, LeBow's MBA program coordinator, said.
The judges for the first round included members of the ACG, Drexel finance department head Michael Gombola, finance professor Jie Cai, and two of last year's winners: Andrew Kennedy and Jideofor Agba.
In each round the teams are given two weeks to prepare a case study to be presented in front of the judges. The case study is a private equity scenario where students have to analyze the value of a company, evaluate different buyout offers, choose the best offer and figure out how this decision will affect the company. Each team's presentation must be 20 minutes in length and explain how the students came to their conclusions.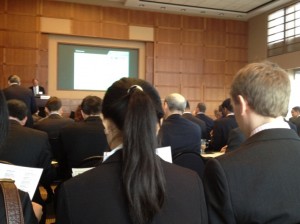 "The case that the ACG team dealt with this year was extraordinarily complex in terms of the financing on the first case as well as the second case. Any team that can perform well on them has to be able to do a real professional job," Gombola said.
The winners were announced at a banquet where students had the opportunity to mingle with professionals from the finance industry.
"This is a great way to apply your knowledge and also a great way to meet professionals in the real business world of private equity. … This competition, more than anything, has been a great way to meet the actual people in the industry," Zola said.
Teams from Temple University and the University of Pennsylvania placed second and third, respectively. Drexel's team also beat out Villanova University, La Salle University, The Pennsylvania State University, St. Joseph's University and the University of Delaware.
"It's a direct competition between the LeBow students and all of the other students of the Delaware Valley universities. And when the LeBow students cannot just compete head-to-head with students from Wharton, Villanova and Temple but can perform in a superior manner, it shows that are students are at least as good as students from the other schools and probably better," Gombola said.
Drexel also beat out both Villanova University and Cornell University at the end of March in Villanova's Real Estate Investment Challenge. Drexel's team of four LeBow undergraduates: David Nguyen, Andrew Lawson, David Hunt and Nathan Raiders, placed third nationally. LeBow does not offer any real estate courses, so the students had to learn about real estate investment independently.