An unknown male broke into Ross Commons Feb. 23 at 4:32 a.m. and took two register drawers from Sabrina's Cafe, according to Drexel Police. No arrests have been made, although Drexel Police and the Philadelphia Police Department are currently still searching for a suspect.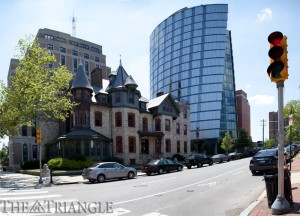 "This is a very active investigation with the Philadelphia Police Department," Eileen Behr, director of police operations for the Drexel Police Department, said.
According to Drexel Police Detective Robert Lis, the lead detective on the case, during a routine patrol around 4:45 a.m., Sergeant Patrick Haney observed a suspicious male walking near 32nd and Hamilton streets with two unknown objects — later discovered to be the register drawers.
Haney approached the suspect and attempted to apprehend him, but the suspect fled toward the Spring Garden Street Bridge. Haney called for backup and pursued, but the suspect was lost after he jumped 50-60 feet from the bridge onto the railroad tracks below and continued to run.
The Philadelphia Police Department was alerted of the situation and began to search for the suspect.
Drexel Police searched for possible break-ins in the area to determine where the recovered register drawers were taken from. This was when Drexel Police discovered a broken window at Ross Commons and that the register drawers were taken from Sabrina's Cafe.
According to Lis, the manager at Sabrina's Cafe informed him there was no money missing, only the drawers. Drexel Police are unsure if the register drawers were locked at the time and if the suspect knew the drawers were empty.
"The drawers were secured at the scene and taken to the Philadelphia crime lab to be processed for fingerprints," Behr said.
Lis believes the building's alarm did not sound because the suspect never opened or attempted to open any doors.
"Haney did a really good job being proactive on patrol, and the other officers did a good job finding the break-in so quickly," Behr said.
When asked why a Drexel Alert was not sent to students, Behr responded, "A Drexel Alert was not issued because there was no imminent danger to anyone at that time."
The Philadelphia Police Department is also investigating the same suspect for several other incidents in Center City and the Graduate Hospital area. The break-in at Ross Commons is the only known one to have been committed by the suspect in the Drexel area.
Haney is working closely with the Philadelphia Police Department because he can successfully identify the suspect. Drexel Police are not releasing a description of the suspect at this time as the investigation is ongoing.
"Our officers are very much so on alert, and the Philadelphia Police Department as well," Behr said.
The Triangle will continue to report on this story as new information is made available.