Students of Drexel University Global Brigades traveled to Nicaragua during summer break June 16- 24 for a medical and public health brigade.
The students traveled to Jinotega, Pueblo Nuevo and El Lemon, Nicaragua, and provided care to approximately 700 individuals and seven families.
The first portion of the trip focused on medical relief. For three days, students involved with Drexel Global Brigades worked closely with licensed medical and dental professionals in a "pop-up" clinic to provide quality health care to residents of Pueblo Nuevo, a small village about 45 minutes from Jinotega, the town in which the students were staying.
Both adult and child patients first went through a triage, where students conducted a basic evaluation by tracking vitals such as pulse and blood pressure, recorded the patient's medical history and noted current symptoms. Due to the language barrier between patients and students, sophomore nursing major Eric Williams noted that it wasn't necessarily as easy as it sounded.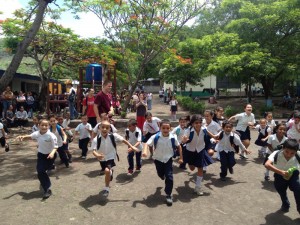 Mayur Chandriani, president of the medical brigades discipline of Drexel Global Brigades and a recent biological sciences graduate, tried to troubleshoot this problem by supplying student volunteers with Spanish practice via websites and packets.
"During our [last] Global Brigades trip in Honduras, communication with the patients was difficult because of the language barrier, and we really needed people to understand the patients' symptoms before we sent them to the consultation. I made sure that students knew Spanish or at least were familiar with some Spanish vocabulary before coming to the trip," he said. Chandriani made sure that an effective translator would be available during the triage on this trip.
After triage, patients went to see a professional for a consultation and, if necessary, diagnoses. Patients then went to "Charla," an education component of the clinic, conducted by the students. Drexel students focused on educating children on basic hygiene, such as washing their hands and brushing their teeth.
Once finished with Charla, patients went to the pharmacy to pick up their prescriptions for the first time.
Global Brigades intends to make a lasting impact on the community being served. Typically, Global Brigades medical brigades will visit a particular community every few months, but because the student organization has been a presence in Nicaragua only since January 2013, this was the first clinic set up in Pueblo Nuevo.
Some students, however, had the opportunity to travel with a Global Brigades mission from another college to a previously served community in Nicaragua.
"[In Nicaragua], we met groups from Brooklyn College and Marianopolis College from Quebec, and we actually worked directly with [Marianopolis] students. They had about 17-18 people, and you typically need 20-25 to successfully execute a brigade. So we sent some of our students with them to help out for the first three days since we had so many," Chandriani said. In this community, prescriptions were also refilled as needed.
The second portion of the trip focused on public health. Students went to a more rural village, El Lemon, where few homes have more than a dirt floor, much less proper sanitation systems. Here, students laid concrete on floors within homes and built community latrines consisting of showers, sinks, toilets and a septic system.
"I had expected the conditions that we saw, but I didn't expect the people to be so happy in their conditions. We are so accustomed here in the United States to seeing people in poverty as miserable. … These are people that have literally close to nothing, yet they are so happy. They are so nice to other people and so appreciative of what we are doing for them … that isn't necessarily the case in our society, so it was a nice 'shock,'" Jill Alderfer, a senior health sciences major, said.
Williams agreed that much could be learned from the nature of the people whom the students served.
"What I actually did was not only help people, but I was able to learn so much about a different culture. Even though I couldn't communicate well, I learned so much from the people themselves," Williams said.
Materials for both the medical and public health brigade projects were obtained either through fundraising and donations or bought on site. This year, students conducted a material fundraiser outside of a CVS called "Shop for a Cause." During the fundraiser, students handed out lists of needed supplies to CVS consumers and asked for direct medicine donations. The pharmaceuticals were then taken directly to Nicaragua for use in the clinic.
Students also wrote to family, friends and other pharmaceutical companies to ask for monetary or material donations for the brigade.
"I participated in just about every fundraiser, and I think that was crucial because our group got closer and closer before the trip. … I did my own separate fundraising as well through family and friends. Each member of the group has a target amount to raise, and I raised over $1,000, which went toward our food, our air tickets and the basic expenses of living in the compound," Alderfer said.
Global Brigades is a massive worldwide student organization with a mission "to empower students to empower communities." The umbrella structure of the organization allows for colleges and universities to develop their own Global Brigades chapters, and then within these chapters, students may organize trips to comply with any of the nine Global Brigades disciplines: architecture, business, dental, environmental, human rights, medical, microfinance, public health and water.
This trip to Nicaragua was the second Global Brigades trip facilitated by Drexel and the first-ever organized interdisciplinary brigade. Regardless of the discipline of the trip, every brigade is open to students of all majors.
"All you need is a good attitude. You can be any major, any class, any school — it doesn't matter as long as you're passionate about serving these people," Hannah Brady, a senior biological sciences major and president of Drexel Global Brigades, said.
She added, "Global Brigades has nine disciplines, and we are currently only using two of them. If there is a business major, someone in pre-law, someone in finance, there are brigades for them, and we would love for them to join us."
The board is currently planning a medical brigade to Ghana, which will take place in December, as well as a public health trip in Panama over spring break in March. For more information, students can contact [email protected].