Junior biology student Kirsten Vannix was found deceased in her off-campus apartment May 22. The cause of death has yet to be confirmed.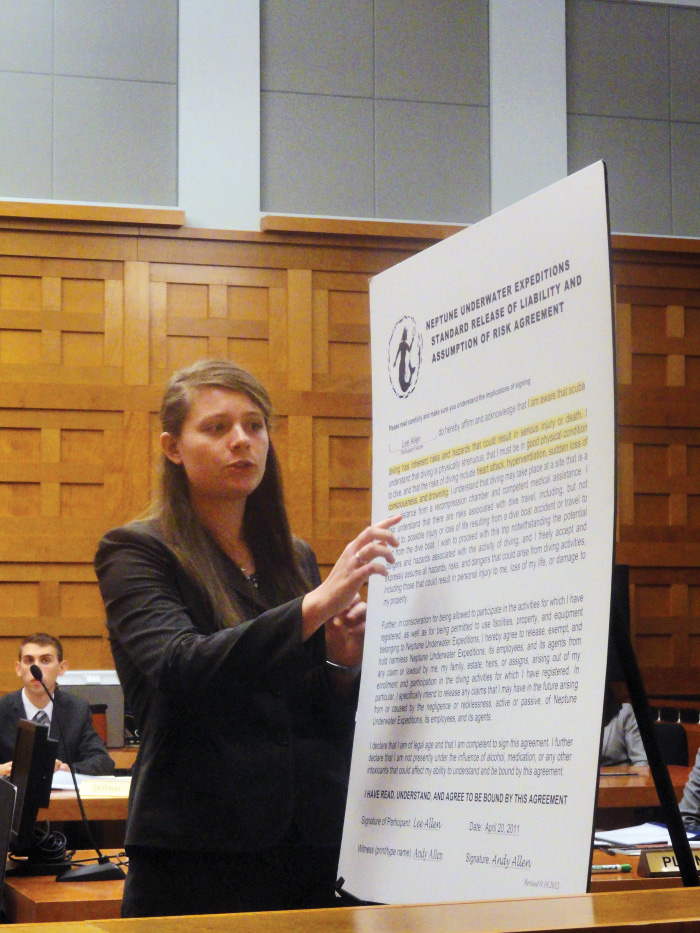 "University officials have reached out to Kirsten's family and expressed the sincere condolences of the Drexel community," Donna Murasko, dean of the College of Arts and Sciences, wrote to the CoAS community in an email. "We will provide whatever comfort and service we can to them during this difficult period."
While there has been no official announcement to students and faculty from the University or from President John A. Fry, it is clear that Vannix's absence is being felt throughout the community.
Vannix, known by her friends as Kiki, was a member of many campus activities including the Honors Student Advisory Committee, the American Red Cross Club of Drexel University, and Lemon League at DU, to name just a few. She also volunteered at St. Christopher's Hospital for Children. She came to Drexel from Redlands, Calif., and was preparing to apply to medical school.
Vannix invested much of her time into the Drexel University Undergraduate Mock Trial Association, although she had no intention of attending law school. She was the fundraising chair of the club and had just been elected vice president.
"If you thought you were working hard, she was always working harder," Sarah Margulis, a sophomore philosophy major and mock trial team member, said. "We really want to try harder, as hard as she would have this year."
An avid "SpongeBob SquarePants" fan, the mock trial team is considering hosting a SpongeBob-themed competition at Drexel in Vannix's honor.
"She had this huge SpongeBob pillow that she took to mock trial competitions everywhere," Margulis added.
Vannix was also actively involved in the club softball team, of which she was both the founder and president.
"I can tell you that Kirsten was an extremely motivated, kind, understanding, welcoming, empathetic, intelligent, talented, hardworking and hilarious young woman," Alyssa Mikulski, a psychology student and softball teammate of Vannix, wrote in an email. "She accomplished so much in the short time she was here — much more than people three times her age have accomplished."
Those adjectives aren't only Mikulski's opinion; they can be heard from students and faculty throughout campus who praise her personality and work ethic.
"She just had all of the good qualities," Margulis said, noting that Vannix made an impression on everyone who knew her. "She made me want to try harder like no other person."
Senior communication major Renee Daggett, also a member of the club softball team, wrote in an email, "Kirsten was the kind of person you were lucky to know. You knew she cared about you. Kirsten started the club softball team so that we all got to play. As a graduating senior, she allowed me to fall in love with the game again and introduced me to an amazing team of women I would have never met otherwise. Kirsten created a strong team, and I just hope we will continue as a team that becomes even stronger, a team that would have made her proud. She will always be a part of Drexel Club Softball."
Not only was Vannix involved in a myriad of student organizations, but she was also genuinely curious and enthusiastic about her schoolwork and learning. As a biology student, she spent time volunteering in Drexel's paleontology lab for Kenneth Lacovara, an associate professor of paleontology and geology. Her work will contribute to the publication of the finding of a new dinosaur species in the coming months.
"She was the kind of person that always went the extra mile," Lacovara said of Vannix, who took two of his classes. "She didn't have to [volunteer in my lab], and it wasn't in her field of study. … She was just interested, and she wanted to learn about lots of different things."
Connor Hackert, a second-year law student and close friend of Vannix, emphasized her compassion, warmth, and overall ability to make a difference in the lives of those around her. Hackert was a previous president of mock trial and a resident assistant in Vannix's residence hall her freshman year. They formed a strong friendship that lasted even as Hackert went on to law school.
"You were the SpongeBob to my Patrick," Hackert wrote in a Facebook post. "Your love, compassion and hard work would have carried you so far to accomplishing your dreams."
There will be a memorial service for Vannix June 3, at 3:30 p.m. in the Papadakis Integrated Sciences Building.
Drexel's Counseling Center services are available to all students, including those seeking support after this tragedy. The center's counseling professionals can be reached at 215-895-1415 during business hours or 215-416-3337 any other time.