E. Benjamin Skinner, a journalist and author who focuses on the topic of modern human slavery, spoke to an audience May 28 in the Papadakis Integrated Sciences Building. His book, "A Crime So Monstrous: Face-to-Face with Modern-Day Slavery," talks about those who live in slavery, those who have escaped, those who own or sell slaves and those combating the crime.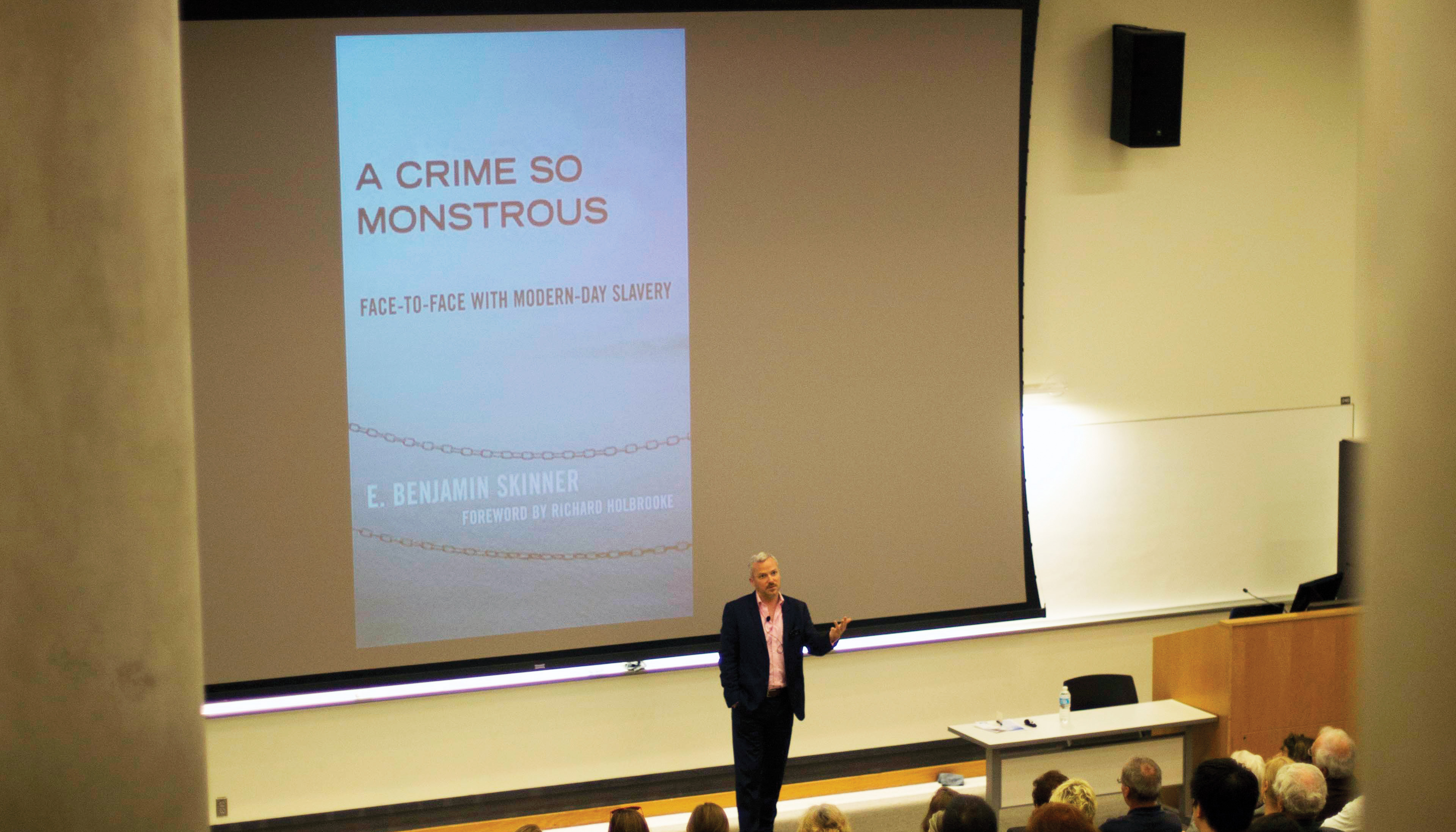 Skinner was introduced by assistant clinical professor and the Director of Global Studies at the College of Nursing and Health Professions at the graduate level, Donna Sabella. Sabella is the faculty advisor for Students Advocating Against Slavery, a new Drexel club that is working against human trafficking.
Skinner observed that his Quaker ancestors would have been able to see open slave markets while going about their daily business, but that "[today], slavery is everywhere and nowhere." According to Skinner's talk, human trafficking is most prevalent in Sri Lanka, India, Pakistan, and Bangladesh; arguably there are more slaves there than the rest of the world combined.
Skinner told the audience two stories about people he has met during his work. One, Ganu, worked in a rock quarry in India. Ganu was in his early 40s and did not know his exact age, but looked like he was in his 70s. His grandfather had taken on a debt equivalent to 62 cents, thereby bounding his family. Ganu began working in the quarry when he was about six; children are tasked with planting short-fuse explosives.
"Dismemberment, death were common," Skinner said. "In the eyes of the people trafficking these slaves, these 'employees' are disposable."
He continued, "According to the villagers, [the man running the quarry] had killed over a dozen slaves. … Their deaths didn't receive notice in the police ledger."
Skinner realized that despite the oppressive environment in which Ganu and people like him lived, he was still able to visit their villages. "If I can get into these villages, they can get out," he said.
However, when he suggested an escape plan to Ganu, the man replied, "Where would I go? How would I eat?"
The second tale concerned a man named Yusril, whom Skinner met while working off an anonymous tip for a Bloomberg article. Fishing charter ships stationed a few thousand miles off the coast of New Zealand employ Indonesian slaves.
"They are being taken thousands of miles [from their homes] to Korean-flagged [ships]," Skinner explained.
Yusril was 28 years old and his wife eight months pregnant, desperately needing money, when "[he] was presented with an offer that sounded like a dream." He was on the waiting list to work for a New Zealand fishing company for seven months. When he came to the recruitment office, he signed three contracts, two in a language that he did not comprehend. The third, which he was not allowed to read, stated that money would be withheld for the first three months of employment, then distributed on an as-needed basis. If he backed out of the job, his wife's family would lose their house.
"He was beaten if he so much as asked to use gloves," Skinner said.
Yusril managed to escape, believing that the New Zealand government would defend his basic rights, but instead the government deported him. The traffickers then came after him, but not "with weapons at first."
"The problem with journalism is that the story doesn't stop after you finish reading the piece," Skinner explained. After his article went online, the companies involved were named. "When you name Walmart, when you name Costco, Wholefoods, action happens," he said.
Skinner managed to help Yusril and his family into protective custody.
Following the talk, he opened the floor for questions and answers. After that, Kaelee Shepherd, the president of SAAS, spoke briefly about how she became concerned with human trafficking.
"I thought he was inspirational, and he did a really great job getting people involved in an issue. … I'm really glad I came," Arismita Ray, a senior international area studies major, said. Because she is a member of SAAS, she knew much of what Skinner shared with the audience, but she was still surprised by the numbers he gave.
There are more slaves today than there were at any time in history. Skinner pointed out that many of the numbers concerning human trafficking are estimated, but that "[what] we do know, [from sources] like police reports … and arrest, is that across the globe there are 21 to 27 million, maybe 30 million in slavery today."
According to the United Nations International Labor Organization, the human slave trade garners a $150 billion profit a year, up from $44 billion in 2005. The same study states that two-thirds of this money is made from sex trafficking.
Skinner now works for Tau Investment Management, which invests in companies that transform their supply chains to avoid unscrupulous labor practices. At the moment, the company is focusing on working with the apparel industry.
Skinner has traveled more than 2 million air miles in the course of his work. His pieces have appeared in Time, Newsweek International, The Los Angeles Times, The Miami Herald, Foreign Affairs and Foreign Policy.He has also been featured on international, national and local television networks such as ABC, CBS and CNN.One of the chapters of his book was adapted into an Emmy-winning "Nightline" episode titled "How to Buy a Child in Ten Hours."
The talk was co-sponsored by SAAS, Drexel University Office of International Programs, the College of Arts and Sciences, the International Area Studies and Women's Studies programs and the College of Nursing and Health Professionals.