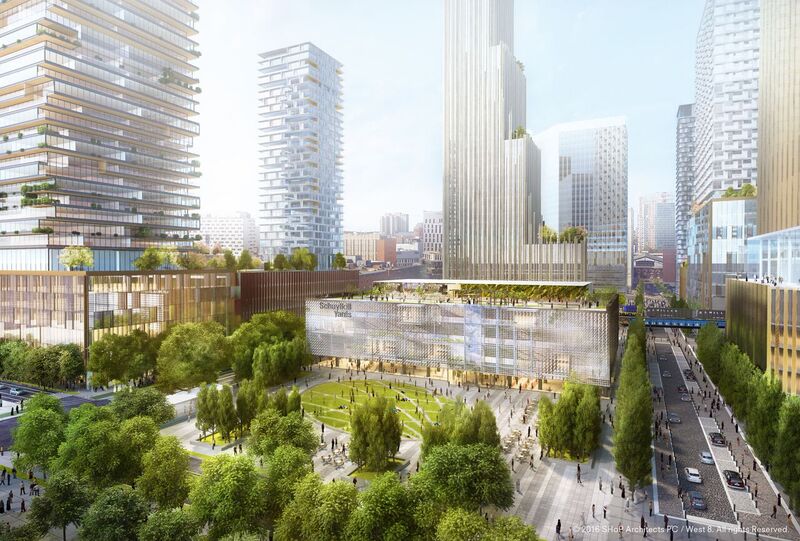 On March 2, Drexel University announced its partnership with Brandywine Realty Trust for University City's new innovation neighborhood. The 20-year, $3.5 billion real estate development project dubbed "Schuylkill Yards" will bridge Drexel's main campus with Brandywine's Cira Centre and Amtrak's 30th Street Station by dedicating five million gross square feet of mixed-use buildings towards a master planned community.
"It's a delight to see so many good friends and faces in one place," President John A. Fry said to around 400 attendees at the Schuylkill Yards announcement. "That place for the moment is a parking lot transformed for today into an elegant venue, but there's a much bigger transformation coming. This parking lot that we've pitched our tent in is going to become a world-class open space in the tradition of Philadelphia's iconic public squares," he continued, explaining that the 14-acre district will serve as a network of public spaces, individual in character, but unified by their urban design's focus on green urban spaces.
The parking lot in front of One Drexel Plaza will become "Drexel Square" under the plan, serving as a community green near between 30th Street Station and Drexel's campus. This area will serve as an adaptable space with an iconic elliptical patch of green grass, sidelined by alleys and trees that will block off this space from sun and traffic. The front of One Drexel Plaza will be transformed with a dynamic front screen panel. The square is designed to serve as the center of activity for Schuylkill Yards and a gateway to University City.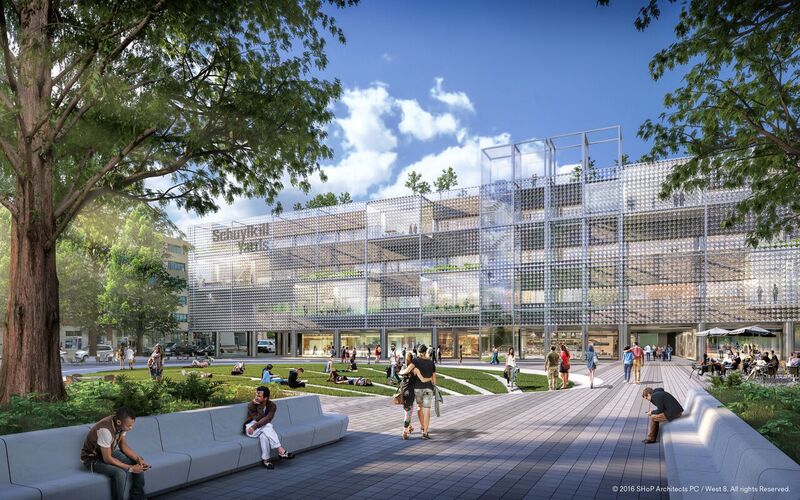 Schuylkill Yards will also develop JFK Boulevard to link 30th Street Station with Drexel's Armory building. The street will be completely redesigned to integrate both bikes and cars safely and provide a rich new greenway for the public. Market Street will also receive a facelift, with dedicated bike and pedestrian lanes and three rows of trees to reduce noise and pollution.
Below the West Philadelphia Elevated, better known as the "High Line," 31st Street will be extended and revitalized, with commercial establishments and further connectivity to Penn Park.
Finally, surrounding One Drexel Plaza, Drexel and Brandywine will build eight new high rises, with interior spaces reserved for traditional offices, "innovation spaces," laboratories, residences, hotels and retail establishments.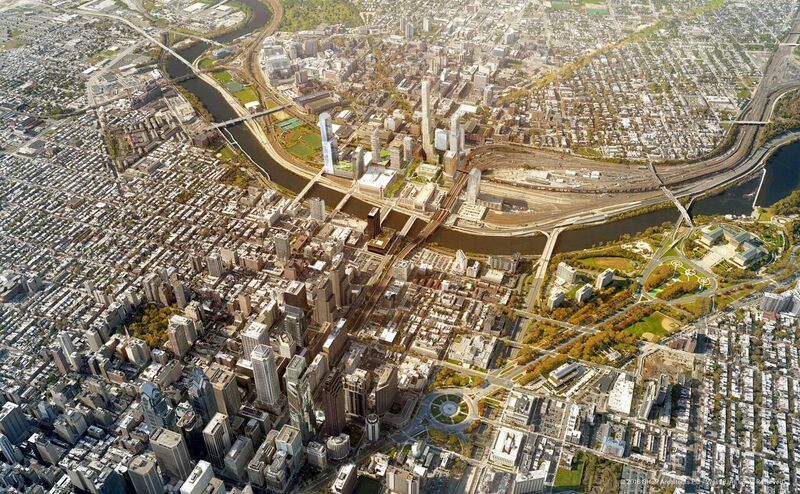 With this development initiative, Fry hopes to make Schuylkill Yards the country's foremost up-and-coming innovation district.
"[University City is] one of the most exciting spots in America to create a new neighborhood built around innovation. We are on the 50-yard line of the East Coast, in a major transportation hub directly opposite the nation's third-busiest train station and seamlessly connected into Philadelphia's business center and networked into the incredible research and technology ecosystem of University City," he stated.
"For years, Drexel has been looking for a higher purpose for this Schuylkill property and Schuylkill Yards is that higher purpose," Fry continued.
Drexel's selection of Brandywine as a partner developer on this initiative was the result of a national search. The company is one of the United States' largest integrated real estate companies. In the Philadelphia area, they are known for their work on the Cira Centre, EVO and FMC Tower at Cira Centre South. Brandywine's president and chief executive officer and trustee, Gerard H. Sweeney, spoke on behalf of his development company for the formal announcement.
"There are moments that define a day. There are moments that define a month. There are moments that define a year," Sweeney began. "Well, this is one of those rare moments that will help define a generation with many more developments to come as each stage in this transformation is completed," he continued.
"Schuylkill Yards will be a community. Not a corporate campus."  Sweeney went on to emphasize. "Not a Monday to Friday lifestyle but rather a fully engaged ecosystem where big thinking is the order of the day and of the night… Where magnificent physical spaces are simply the framework to accelerate creativity, academic research, commerce and community engagement," he continued.
This huge-scale project will create over 10,000 construction jobs and employ around 15,000 employees, involving the efforts of architects, planners, researchers, community groups, academics, and business persons. The project will also generate tens of millions of dollars in tax revenue.
Fry and Sweeney also emphasized that Schuylkill Yards will maximize the hiring of West Philadelphia residents – specifically in Powelton and Mantua, where unemployment rates currently sit at around 15 percent and nearly 50 percent of families live below the poverty line.
"All of our team members share the same DNA– the DNA to believe that you can shape the future by doing the right thing today, that buildings are in fact bridges to communities and that physicality helps to define culture and our brand. That's our quest," Sweeney explained, on Schuylkill Yards' mission.
The project thus far has garnered support from local Philadelphia officials such as Senator Vincent Hughes, Councilwoman Jannie Blackwell and Philadelphia Mayor Jim Kenney.
"Schuylkill Yards is a big step forward in University City's transition to a next-generation business district. It will provide our region's current and future innovators with a central hub for collaboration and signal to the world that Philadelphia is ready for business in the 21st century's new economy," Mayor Kenney said in a statement. "Drexel University and Brandywine are creating one of the most valuable assemblages of real estate in the nation, and all of Philadelphia's residents, institutions, businesses and visitors will share in the prosperity generated by this new center of innovation," he continued.
Schuylkill Yards' development is set to take place in multiple phases within the next two decades. The first phase will be the creation of a 1.3-acre park at 30th and Market Streets called Drexel Square, which is set to begin in late 2016.
As the project develops, more information on plans and initiatives for Schuylkill Yards can be found at  www.schuylkillyards.com.