When it comes to Beatles history, nothing has been left unsaid. They are quite possibly the most beloved musicians the world has ever known. From books to video games, they have been documented religiously, and their music has been treated as a priceless gem. Simply put, The Beatles are an institution. So before I continue to gush and accidentally plagiarize an aforementioned book's anecdote of the band's origins, I'll just cut to the important part.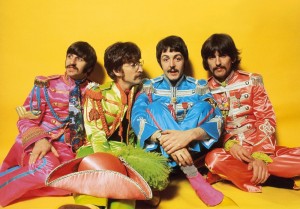 It's August 1966, and The Beatles are tired of performing live. Their U.S. tour to promote their new album "Revolver" has proven to be stressful and is mired by controversy, so they agree to take a break after releasing seven albums in three years and a few dozen non-album singles. Their decision to take a step back from popularity shows that they are acutely self-aware. They realized that the band has become too big for its own good and is developing a reputation that would be beyond their control if they remained in the spotlight.
What they needed was a chance to refocus and concentrate on the music, to explore new possibilities with their sound. Paul McCartney was thinking the exact same thing after coming home from a vacation with his girlfriend, Jane Asher, that November, but he decided to take it a step further. What if The Beatles weren't The Beatles anymore and pretended to be a fictional band? It was crazy yet brilliant, and it soon became "Sgt. Pepper's Lonely Hearts Club Band."
Once the band assembled in December 1966 to begin recording, the freedom of this new project took hold. Every song created during this period, which lasted until April 1967, is quintessentially psychedelic, a direction undoubtedly influenced by their recreational drug use.
However, the songs sometimes vary dramatically. For instance, the dreamy, affecting ballad "She's Leaving Home" is followed by the demented-circus carousel of "Being for the Benefit of Mr. Kite!," which leads directly into the meditative sitar drone of "Within You Without You." Not to mention that the inclusion of saxophones, orchestras and even a bass clarinet threaten to make the album less cohesive.
On the contrary, the wild, imaginative nature of "Sgt. Pepper" is only cemented by its eclectic track listing. The underlying spirit of The Beatles' gleeful experimentation is intact from the murmuring crowd of the title track to the devastating final chord of "A Day in the Life." "Sgt. Pepper," perhaps more so than any other album, grabs you merely on sheer personality.
Oh, and the other songs recorded during this period that weren't included on the album? They became "Magical Mystery Tour."
In the years following 1967, The Beatles actually advanced their sound a great deal while managing to be both prolific and consistently excellent. The cutesy British Invasion sound of "Please Please Me" gradually morphed into the mature quasi-psychedelic rock of "Revolver." Yet "Sgt. Pepper" allowed the band to dive off the deep end into full-blown psychedelia because being a "different" band allowed them to think outside the box. They didn't need to smile for publicity photos or make people clap at their shows; the music could do all of the talking for them.
This idea for recording and promoting an album was revolutionary. In a way, The Beatles were showing that an album should be a unifying statement that works primarily as art instead of as a viable commercial product. For that reason alone, "Sgt. Pepper" changed popular music forever and is arguably the most influential album of all time. It turns out that starting fresh allowed The Beatles to outdo even themselves.