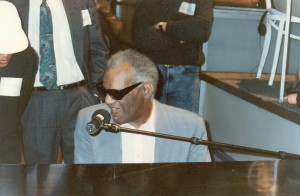 A common theme among great musicians and their albums is that they are rarely directionless. If an artist fails to change his or her tune for years, it's going to become stale no matter how good it really is. An evolving sound — and with that, an image — turns a good band into a great band and a great band into the stuff of legend. Do you think the Beatles would be as well known if everything they wrote sounded like "Love Me Do?" At the same time, a change in musical direction doesn't have to be inherently significant to the artist. Oftentimes it's just what they feel like doing.
Take Ray Charles, the legendary soul singer and pianist, whose "Modern Sounds in Country and Western Music" was released 50 years ago this month on ABC-Paramount to great acclaim. No one expected Charles to try, let alone succeed in recording an album of only country and western covers. We are talking about the man who pioneered the fusion of blues and gospel into soul and who sang an impressive number of hits for Atlantic Records in the late 50s, including "What I'd Say" and "I Got a Woman." Charles thrived in his niche, and no one thought it was getting old, except maybe Charles himself.
"Ray," the theatrical biopic of Charles' life and career, makes a point to capture the transition between his productive Atlantic tenure and his new, lucrative ABC-Paramount deal. With the contract and the agreement that he produces his own records already on the table, Charles insists that he "owns [his] masters as well." This statement made Ahmet Ertegun, president of Atlantic Records, exclaim that Charles now had a better record deal than Frank Sinatra.
From the beginning, it was clear that Charles had a largely unprecedented amount of creative control under ABC-Paramount, creating the right conditions for him to make crazy left turns such as "Modern Sounds."
In fact, Charles had all but given up writing original material after Atlantic. Instead, he used his signature sound and voice as a vehicle to interpret whatever he saw fit. "I'm Movin' On," another country song, and "Hit the Road Jack" are examples of his resounding success with interpretation.
Charles' first two albums with ABC-Paramount were also defined projects with a theme, but neither came close to the greatness and significance of "Modern Sounds." For an artist who had made his name in soul music, an album of country and western songs was incredibly risky. If he failed to translate a hand-picked set of country hits — narrowed down to a dozen after an extensive search of hundreds by engineer and co-producer Sid Feller — the effect on his popularity and image would be catastrophic.
Charles was not about to let that happen. He assumed complete control of not only which songs to record but also the artistic direction and arrangement of each song down to the smallest detail. Surprisingly, the recording sessions were quick and efficient, taking only two days in New York and one day in Hollywood to complete. This album may have been just another project to Charles, but he didn't take it lightly.
"Modern Sounds" quickly became a monumental release not only for its songs but for its historical context. In April 1962 the Civil Rights Movement was in full force. Charles provided an act of good will that lifted the spirits of the country. He showed that music is a strong uniting force when he gained a large white audience with his renditions of traditionally white songs without losing any of his black audience.
Charles' creative control was also a first for a black artist, signifying another figurative step in this struggle. On top of that, the album was wildly successful with four charting singles, including the No. 1 hit "I Can't Stop Loving You." As the best of the ballad-recording Hollywood session, the single is "Modern Sounds" in a nutshell — straightforward songs of heartache done in an elegant and grand fashion.
Even the rollicking big-band numbers "Bye Bye Love" and "Hey, Good Lookin'" barely have any room for intimate piano fills or backup vocals. Every chord change is a sweeping, expansive gesture; every note that Charles sings is meant to be held.
The important thing is that despite the grandiosity of the string and choral arrangements that appear frequently, Charles still manages to maintain his signature style, convincing us that these are actually his songs. "Modern Sounds" shows that he is truly a master at work while breaking barriers at the same time.