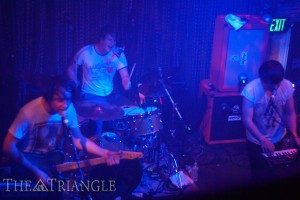 The Wombats are currently touring the U.S. for the first time with a surprisingly large American fan base. The recently released "The Wombats Proudly Present…This Modern Glitch." The Liverpool natives offer fun, clever lyrics.
If you don't think the lyric "I like girls, girls and fast cars" can somehow be transformed into a profound and more complex statement than it appears to be on the surface, you haven't listened to The Wombats. The Scouse indie trio writes fun, danceable songs with lyrics that have an unexpected cleverness and depth to them. These lyrics aren't complex poetry; they contain lines that are often simple not empty like some of the pop songs making the Top 40.
Four years after their debut release, the Liverpool natives released "The Wombats Proudly Present … This Modern Glitch" in April of this year and are currently touring the United States to support it. The band is vastly more popular overseas but is rapidly gaining fans stateside. On Oct. 22 they sold out Johnny Brenda's in Philadelphia, and The Triangle met up with drummer Dan Haggis and bassist Tord Overland-Knudsen to discuss touring, their albums and more.
The Triangle: How is the U.S. tour going so far?
Haggis: Amazingly well. We've only done two shows: New York and Washington. But we kind of did an acoustic show in Boston in a museum, which was pretty fun. But it's been two of the best shows we've ever done in the States. We played Washington at this 9:30 club, and it was like sold out basically, and people knew the words. We're kind of not used to that reaction over here. So it's really good to see that it's going on the right direction. We're very excited for the rest of the tour.
TT: You play smaller venues in the U.S. than you do in Europe and other places. How is it different? Is it any harder for you … to get the crowd into it?
Haggis: It's not more difficult, no. It's very different. We've been in Australia recently and the U.K. Those two tours were literally between two and five thousand people like everywhere. And you get used to that kind of the ease with which you can get the crowd going and everyone knows the words. And it's kind of really comfortable and fun. It's like it looks easy almost. People sing along and you kind of get into the show routine whereas these are more chaotic. Like you don't know how the crowd's going to react, whether they're going to know the songs. I find it almost more exciting.
Overland-Knudsen: It's not like the band and the audience. It's like there's not that much of a difference. Like we're a group of people together in a room having fun together. That's what it feels like. That feeling is nice.
Haggis: Yeah, it feels like the early days of the band as well, like when we started. There is a sense of like conquest, you know? We really want to convince people, even if there were only 50 people in the audience, we hope they have as good a time as possible. There is no difference between playing to 5,000 and 50 people. Like, it is the same in principle and we relish it.
TT: Is there anything you learned from the second album you think you'll take to your third?
Haggis: I think we're constantly, no matter whether it's with the Wombats or it's just programming on the bus or playing guitar acoustically, messing around. I think everything makes you better as a band as well. The better we get as musicians and producers or whatever the better, the more scope we get and different directions we can go in easily. So I think the main thing from this album is just that we experimented more than we did with the first album. I think we'll be much more comfortable with synths and programming and generally playing to a click [track].
Overland-Knudsen: I think that's the main thing.
Haggis: We'd never really played to a click as a band before. So it was really a first. It was a bit weird for us because we're kind of loose. We still do have that in the set. We don't always have a click. But we've got more experience, and we've got a different side to us now, and we could go pretty [expletive] epic if we want to.
TT: Some bands use joining a band as a way to skip the whole school process. You all went to the Liverpool Institute of Performing Arts. How do you think that affected the band? How much did it help?
Overland-Knudsen: Well, we wouldn't have met to start with if it wasn't for the university we went to. It was essential in that aspect, and also that we had all the facilities that we got to use for free. We had practice rooms and amazing studios. It obviously wasn't just music. It was a management degree. It was lights, sound engineering. … It basically all fit under one roof and, like, it's ridiculous. Our tour manager, she studied there. Our manager studied there. Our sound engineer studied there. You know what I mean? It's obviously a great place to meet people.
Haggis: I actually did drop out of university to be in a band. So …
Overland-Knudsen: Yeah, he didn't finish. I did finish my degree and so did Murph. So did all of the crew as well.
Haggis: They're all fine. If things go t-ts up, they're fine. I'm buggered basically. I'm up s–t creek without a paddle. [laughs]
Overland-Knudsen: Now, come on, you can speak French fluently, so you'll be all right.
Haggis: Well, yeah, I guess.
Overland-Knudsen: He was studying French and Spanish, and yeah, you can speak French, so it's all good. So yeah. It was definitely very important to us being in that environment and meeting people and keeping them on board when we finished and started touring.
TT: In some of your songs there are Shakespearean references and other literary references. How much does art other than music influence your songs?
Haggis:You can't help being influenced by everything around you, can you? I guess because all of the songs are drawn from everyday experiences in real life, some of them are obviously embellished somewhat, but in general. If at the time if you're studying a bit of Shakespeare or reading whatever, little references do creep in. Maybe not massively with Murph's lyrics; there are a few references here and there. But yeah, I don't know. If you watch films like kid's films and then you practice, the music might be slightly different than if you watched a horror film. It's an
interesting question; I've never really thought about it. I guess you can't really help but be influenced by everything around you.
TT: Most people have the perception of your band as being fun with more serious lyrics. Is this the same for you? Is this what you're trying to do, or is there something else you feel is the core of your band that could take you in a different direction?
Haggis: I think with the first album versus the second album, we took what we were doing on the first album and just made it a bit bigger, and the flower blossomed a bit more. But as you were saying, the lyrics got a bit darker, the music got a bit bigger and more epic, but still very upbeat and fun. We did fight a little bit against it, didn't we? With the first few songs we made for the second album were more — the music was a lot more aggressive and heavier. But I guess it's still quite like playful.
Overland-Knudsen: Yeah, it's not that far. It's not a massive departure from what we were doing on the first record.
Haggis: I think we could go anywhere, really. That's the exciting thing. I don't think we want to, like — we don't want to majorly change anything particularly because we're really happy with what we're doing. But if something comes along …
Overland-Knudsen: I guess it gets a bit contrived if you try too hard to do something. It has to come naturally.
Haggis: It's normally fairly organic for us, really. If we feel excited about it, then it normally works out and it's good. … Yeah, we'll see what happens.