The Vans Warped Tour rolled through the Susquehanna Bank Center in Camden, N.J., July 12. Founded by Kevin Lyman, Warped Tour has become one of the largest touring music festivals in the world. Skateboard shoe manufacturer Vans has sponsored the tour every year since its start in 1995.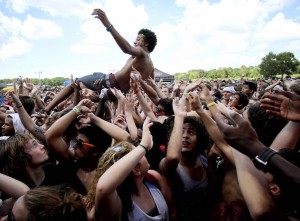 The 2013 lineup featured various artists such as The Summer Set, Big D and the Kids Table, Memphis May Fire, Reel Big Fish, The Used, and Story of the Year. This year, the mixed-genre festival brought great artists and vendors to SBC and also brought the rain.
Almost the entire festival was watching when indie-alternative-rock group and MAD Dragon Records collaborator Motion City Soundtrack took the Kia Forte Stage, which was conveniently under cover on the Susquehanna Bank Center stage. The band kept it old school throughout the entire set, playing mostly fan favorites such as "This Is For Real," "The Future Freaks Me Out" and "Everything Is Alright." Although their newest album, "Go," was overlooked when creating the set list, the crowd was able to belt every lyric back to lead singer Justin Pierre.
Drexel University made another appearance at Warped Tour this year when Philly's The Wonder Years took the stage. The band is comprised of lead singer Dan "Soupy" Campbell, guitarist Matt Brasch, keyboardist and guitarist Nick Steinborn, bassist Joshua Martin, drummer Michael Kennedy, and Drexel graduate and guitarist Casey Cavaliere. The band opened its set with "Passing Through a Screen Door" from its newest album, "The Greatest Generation." From there, The Wonder Years continued to perform songs off older albums "The Upsides" and "Suburbia I've Given You All and Now I'm Nothing." They could not stop expressing how excited they were to return home and to be featured on the main stage.
Although Lyman made a few out-of-place additions to the lineup like Allstar Weekend and Action Item, it was evident that there was at least one artist for every music taste at the festival. Those simple additions drew a diverse crowd of people to attend this year's festival. At first thought of these additions, fans were a little unsure as to how things would pan out with Lyman drawing in new Warped Tour attendees. But in the end, Lyman even proved me wrong. At the end of the day, it was clear that all concertgoers had the "Best Day Ever."