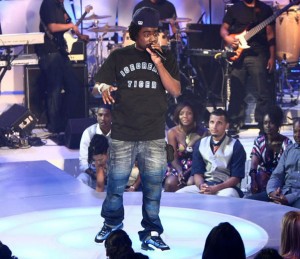 2012 was an incredible year for Wale. After releasing his sophomore album and Maybach Music Group debut "Ambition" at the end of 2011, Wale began to emerge as one of the next rap superstars. The album's lead single, "Lotus Flower Bomb," featuring Miguel, is up for a Grammy Award this year, and Wale starred on a number of hits from his label's collaboration album, "Self Made Vol. 2." To close out 2012, Wale released a brand-new mixtape Dec. 24 titled "Folarin."
With lots of momentum, a massive following and his buzz at an all-time high, Wale couldn't have chosen a better time to release "Folarin," which features his boss, Rick Ross, along with 2 Chainz, French Montana and rising star Trinidad Jame$. Following an introduction by G Mogul, Wale delivers the "Change Up" over production from LG. The sound is instantly reminiscent of the records Wale came into the game creating, and his lyrical content is at an elite level. Over the last few years, Wale has been criticized for diminishing his lyrical content after signing to Maybach Music Group, but he reminds fans when he says, "Same lyrics, just the stage different," and truly backs that up with the rest of the mixtape.
The mixtape boasts the full assortment of what Wale can offer as an artist. He's got the soulful hip-hop tracks such as "Change Up," the sensual slow jam with "Bad" featuring Tiara Thomas, and the club anthem with "The One Eye Kitten Song," featuring Travis Porter and produced by Diplo. Across the board, Wale delivers some of his best work to date with "Folarin."
Other standout tracks include the groovy, percussion-heavy "Let a N—- Know," featuring Chinx Drugz and Fatz of the Coke Boys. "Limitless," which would be much better off with a second verse from Wale than a verse from veteran MC Scarface, features Jake One's unbelievable production, which makes the song an instant repeat. "You'll never fall when you null and void to their opinions, and real n—-s gon' see your end 'fore they see your limit. Don't be with too many. I never came in this business to provide me with friendship; I'd probably trade in some millions if I could make a difference. I swear to y'all it's hard to the shake this feeling," Wale recites on the hook.
Wale provides a hysterical mocking commentary of "the thirst" certain people use on social media with "H2O," recommending that these crazy women "have a glass of water for your thirsty ass." French Montana makes his appearance on "Back 2 Ballin'," which is exactly the song you'd expect from the title but nonetheless has good radio and club potential.
"Cool Off," featuring Jhene Aiko, is all about the ladies and commitment, before Wale lets loose on the "Fa We Wa Freestyle," produced by Digi-Phonics. The beat uses the same sample that is used on Wiz Khalifa's "Visions" from his "Kush & Orange Juice" mixtape but flips it in a unique way, creating one of the best tracks on the project.
Toward the end of "Folarin" comes "The Right One," featuring producer-turned-rapper Hit-Boy, famously known for Kanye West & Jay-Z's "N—-s in Paris." Over Austin Millz' production, Wale and Hit-Boy collaborate for the strongest track on the mixtape with a great soul sample and strong wordplay. Hit-Boy opens his verse with, "I watch n—-s speak on n—-s like it's industry cold, so I'm bundled up for winter cause this industry's cold, n—-s wanna walk in your shoes, but ain't got the soul, I'm James Brown with the beat, got the feeling I'm on."
Overall, "Folarin" was one of the best mixtapes of 2012 despite being a very late submission. The project features all original content and showcases Wale's versatility and growth over the last year. If "Folarin" is any indication, Wale's third studio album is going to be great.