The Australian Pink Floyd Show –  Aug. 5 at Tower Theater
The Australian Pink Floyd Show are, as you probably have guessed, a Pink Floyd tribute band from Australia. Their show is known for having extremely high production value; the songs not only sound spot-on. They also feature impressive lights, visual displays and even giant inflatables. They pride themselves in replicating almost exactly how a Pink Floyd concert looked during any given tour. Their setup mirrors Pink Floyd's set up, down to every last meticulous detail. The Tower Theater, located in Upper Darby, is a great venue and it's sure to bring the show to its full potential. Anyone in that audience the night of Aug. 5 will be in for a real treat.
Coldplay – Aug. 6 at Lincoln Financial Field
Coldplay is arguably one of the most successful and defining new rock bands of the 21st century. They are currently touring in support of their recent album, "A Head Full of Dreams," released in Dec. 2015. They have many years of touring under their belt and to say that they know how to put on a good show is an understatement. Performing at the Lincoln Financial Field, this show is one you're not going to want to miss.
The Go Go's and Best Coast – Aug. 11 at the Fillmore
The Go Go's, the chart-topping new wave sensation of the 1980s are embarking on their Farewell Tour, starting August 2. Currently holding the record as the only all-female band that writes and performs all their own music to top the Billboard album charts, the Go Go's have certainly made a name for themselves. Their simple, catchy melodies and energetic beats are sure to make for an enjoyable concert experience. It'll be a fun night for moms and younger concertgoers alike, as the Go Go's will be performing alongside the California-based indie rock duo Best Coast. From the shimmering guitars to the beachy vibes to the female singers, Best Coast will surely excel alongside the Go Go's next Thursday at the recently opened Fillmore Philadelphia, located in Fishtown.
Blink-182, A Day to Remember, All Time Low – Aug. 12 at BB&T Pavilion
Pop punk fans, rejoice. Blink-182 has embarked on a world tour for their 2016 reunion album "California," alongside some of the best names in the pop punk scene. A Day to Remember, known for their energetic and, at times, edgier sound, are supporting Blink-182 on the tour, alongside All Time Low, known for late-2000s hits such as "Dear Maria, Count Me In" and "Weightless." A jingle contest or Philly's alternative station Radio 104.5 will determine which Philly band will open the show.They will play at the BB&T Pavilion, which is a pretty neat amphitheatre located at the Camden Waterfront.
Kurt Vile & The Violators – Aug. 27 at Chameleon Club
Kurt Vile is probably one of the most treasured commodities of Philly's current music scene. He's an extremely talented guitarist, songwriter and performer. Vile has been a pretty big name in the local scene for a while, but he has garnered much more radioplay and international recognition with the release of his hit single "Pretty Pimpin'" in 2015. He will be playing a set the Chameleon Club in Lancaster, PA Aug. 27. If you are into chill, lo-fi indie rock, I insist that you go check out Kurt Vile.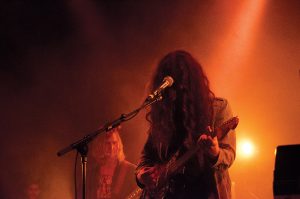 The Triangle: Shane O'Conner