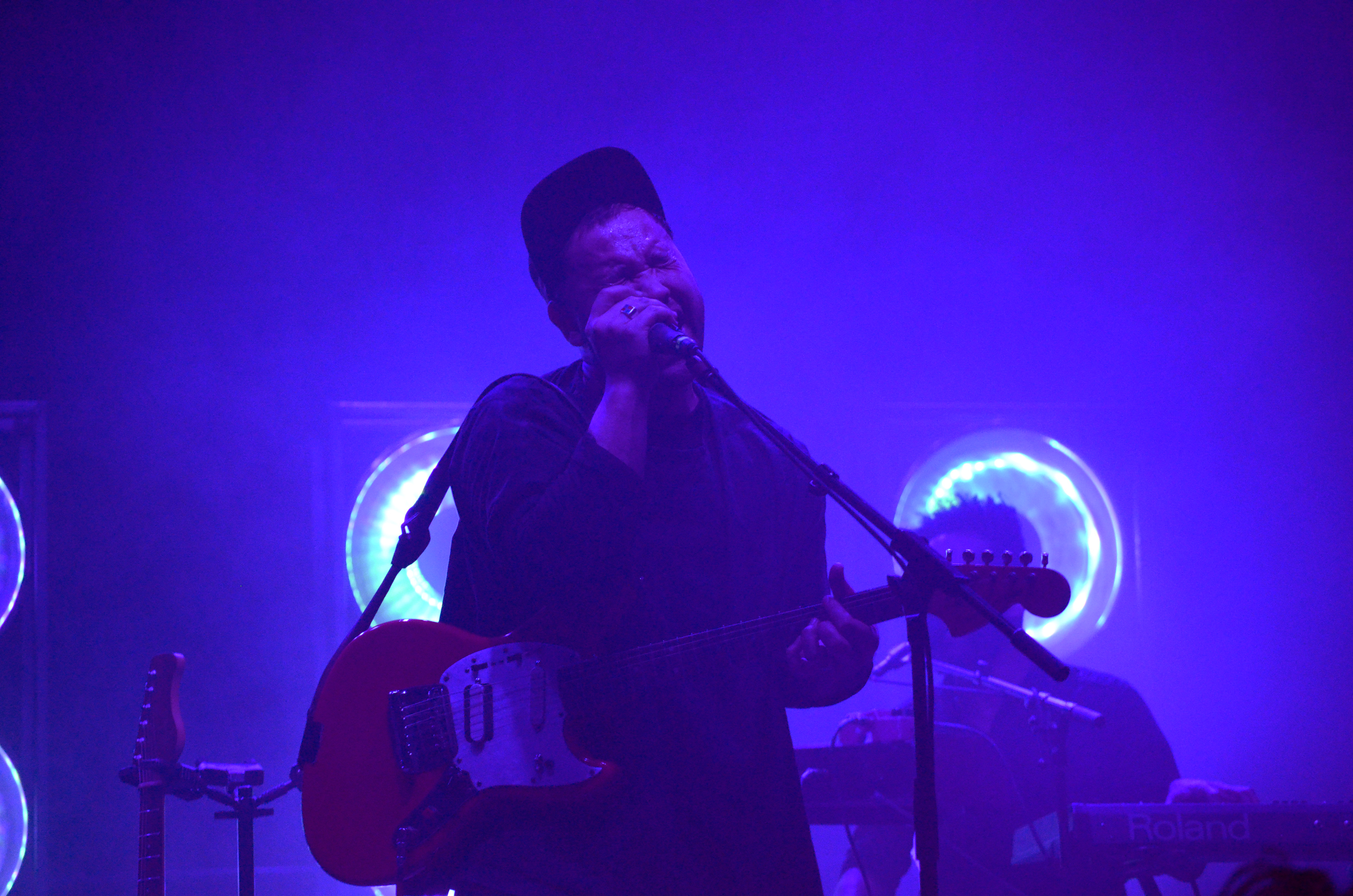 Unknown Mortal Orchestra played to a sold-out at Union Transfer Feb. 18. Fans lined up around the block waiting to get into the Spring Garden Street venue, a big step up from Boot and Saddle, where the band played last time they were in Philly. With support from the indie dream pop band Lower Dens, Unknown Mortal Orchestra put on a fantastic show.
The venue was at about half capacity when Lower Dens took the stage. The Baltimore-based band was comprised of just a singer-guitarist and drummer. The duo played several songs that all seemed to mesh together a bit, creating an atmosphere that had people really grooving and grinding. "To Die In L.A." was a standout track for me. It sounded like Beach House Lite and I wasn't surprised to find out later that Lower Dens actually opened for Beach House a while back.
Soon enough it was time for the main event, UMO. Everyone went wild when front-man Ruban Neilson made his way on stage. Neilson writes and records all the music for UMO and the songs off their latest album, "Multi-Love," are some of the most personal Neilson has ever penned. The group launched right into a track off "Multi-Love," "Like Acid Rain." Turning the brief song into an extended jam that went right into "From the Sun," UMO set the tone for the entire night. If you thought the album cuts were great, just wait until you've heard what this band can do with them live.
I was astounded by just how good UMO sounded live. Sometimes there is a disconnect between the album and live versions of a song when one person does all the writing and recording. It makes it hard for you to set your expectations in seeing the band in concert. But in the case of UMO, it was clear right from the get-go that this band was at the top of their game. Drummer Riley Geare delivered a tremendous drum solo right at the top of the set that had the crowd roaring for more. Later, keyboardist Quincy McCrary went on an extended piano solo which led into "Ffunny Ffrends," leaving me in awe. Bassist Jake Portrait was rock steady, giving Neilson the leeway to shred on lead guitar. It was exhilarating to see such a cohesive and tight performance.
UMO had no trouble pleasing the crowd with songs both old and new. There was the beautifully textured ballad "So Good at Being in Trouble" from "II." "The World Is Crowded" was another standout track. Neilson jumped down into the crowd during "Stage or Screen," creating an aisle through the throng of fans who all whipped out their camera phones to try and get a picture.
After closing with a great rendition of the title track from their latest album, UMO left the stage before returning to play an encore of "Necessary Evil" and "Can't Keep Checking My Phone." It's hard to find a better closing song than "Can't Keep Checking My Phone." On the album, it's a groovy and dancey jam; live, the tempo is much faster, the drums are front and center and the song gets everybody moving. It was the perfect way to end a great night of music. Next time UMO comes through town, be sure not to miss them.