The queen of country, Carrie Underwood, is back after three years with her fourth album, signed with 19 Recordings Ltd. After listening to "Blown Away" you'll find that it's an apt title. Underwood started the month at No. 1 on iTunes and is ready to sit back atop her throne after the May 1 release of her album.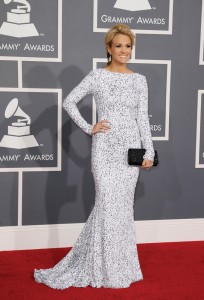 After being crowned the fourth winner of "American Idol," three chart-topping albums (seven-time Platinum "Some Hearts," Triple-Platinum "Carnival Ride" and Double-Platinum "Play On"), 14 No. 1 hits, 11 Academy of Country Music Awards and five Grammys, I think it's safe to say this Oklahoma native has proven to be the most successful Idol thus far.
She knows how to belt it out in her country lane and remain relevant and on top. It seems like making new hit records is a hobby for her; she has the best-selling solo debut album by a female in country music history and the best-selling country album of the last decade, and she is tie with Reba McEntire for the most No. 1 hits since 1991 among female country artists, and with "Inside Your Heaven" the only song by a country artist to hit No. 1 on the Billboard Hot 100 in the 2000s.
Underwood's first single off "Blown Away," "Good Girl," was released on iTunes, Feb. 23, started airing on the radio by Feb. 27 and is already certified Gold by the RIAA. The song showcases her strong blending of rock and country, much like past successes "Before He Cheats" and "Cowboy Casanova."
Underwood is an artist who likes to tell stories in her songs. "Blown Away" has a much "darker storyline" according to Underwood, and you'll definitely agree after you listen to it. In the title track, Underwood wishes for a tornado to destroy her "sin-filled" house and abusive father. "Two Black Cadillacs" is about a dark secret between a man, his wife and his mistress. "Forever Changed" is a story about a happy woman's life that ends in tragedy due to Alzheimer's. However, not everything about this album is dark.
Underwood peppered the album with songs like "Who Are You," "Good in Goodbye," "One Way Ticket" and "Leave Love Alone" that show a lighter kick of her country twang. Much like "Good Girl," "Wine After Whiskey" and "Cupid's Got a Shotgun" show off her fighting side. After all the emotions and powerful songs, she leads you into a more relaxing side from being "lost in this crazy world" to thinking about your origin with "Thank God For Hometowns."
Without a doubt, Underwood's angelic voice takes you through "Blown Away" feeling every emotion she wants you to feel. If the album isn't enough, Underwood announced The Blown Away Tour for later this year, with some festival shows over the summer and dedicated shows in the fall throughout North America. You must listen to this album. She's ready to blow away the competition once more.