Many newcomers to wine aren't incredibly aware of the wines of Argentina. If you do happen to know anything about them at all, the first thing that probably comes to mind is the nation's most recognized grape, malbec.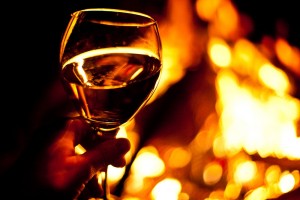 Its fame completely overshadows the country's other great vinous contribution, the white wine, torrontes. Although it may be the lesser-known wine of Argentina and hidden in the shadows of malbec's great success, it's absolutely worth your time to get to know torrontes a little bit better.
Admittedly, torrontes doesn't often come to mind while I'm shopping for wines. Perhaps it's because my first taste of it triggered unpleasant memories of being engulfed in a hug by my great aunt that was too close for comfort. She loved nothing more than to suffocate anyone within close range with smells of the cheap perfume she heavily sprayed all over herself. Unfortunately, the strong potpourri smells that fumed from my glass of Code Noir torrontes didn't leave a lasting first impression.
Just the other day, however, I stumbled across a beautiful torrontes, the Crios de Susana Balba, for the phenomenal value of only $12.99. I abruptly realized how much of a shame my own limited awareness of the wine truly is.
When torrontes is made well, its complex characteristics are evident, and its personality is one to fall for. The young and vibrant white wine has the potential to make you want to take a step up from lackluster pinot grigios and graduate from drinking those super sweet moscatos. Whether you're young or old, this is something I encourage every wine drinker to try.
The best ones have aromas of elegant flowers or musty fruit, like cantaloupes that you might have allowed to sit out too long until just before the infestation of fruit flies comes. This isn't a bad trait in torrontes — it gives the wine richness that you don't often find in those generic, mass-produced white wines that flood the shelves of local wine stores. Smells of overripe melon are in abundance in torrontes, and they entice people who seek wines that are out of the ordinary.
Torrontes history is no less unusual. The grape is Argentina's only completely indigenous variety and has been genetically tested and investigated. DNA profiling has found it to be a cross between the fragrant muscat, believed to be one of the oldest in existence, and the mission (also know as criolla), a low-quality grape that the Spanish likely brought over during the early 16th century.
Luckily for us, the two grapes magically mutated and beautifully fused together to form torrontes. It grew with great success in the higher elevated regions of Argentina that are located close to the foothills of the Andes Mountains. The cooler climate helps the grapes retain lively flavors and vivacious acidity.
When you shop for torrontes, it's helpful to be aware that there are three different clones of the grape. Depending on where it is grown, the aroma and flavor profiles can vary greatly. Keep a look out for torrontes Riojano from the northern regions of La Rioja and Salta. It's typically the most pleasing, with fresh hints of flowers, lively acidity and balance without much bitterness.
Just south of La Rioja in San Juan, you will find torrontes Sanjuanino, a grape that is similar to the northern variety but slightly less fragrant. Finally, in Mendoza, the region renowned for its extraordinary malbec wines, you will find the torrontes Mendocino, a more finicky grape that may not even be related to the other strains at all.
No matter which grape variety you choose, these full-flavored wines will match well with just about any creature that comes from the sea. A glass could easily accompany your ceviche or lobster roll this summer, but you can continue pouring it throughout the seasons alongside spicy Asian dishes that feature seafood.
Don't be afraid to break free from the safe white wines for a chance to sip on a glass of an aromatic torrontes. It's the perfect wine to drink if you dare to challenge your palate.
Recommendations:
Alamos Torrontes 2010
Salta, Argentina, $10.99
13.5 percent ABV
This deep golden torrontes has elegant and rich floral aromas and strong hints of super ripe tropical fruit with a finish that is zesty and citrusy.
Santa Ana Eco Torrontes 2010
Mendoza, Argentina, $9.99
13.5 percent ABV
A refreshing wine made with all-organic grapes for lovers of the environment. Smells like freshly bloomed flowers and perfectly ripened white peaches with a clean, crisp finish.
Vina Antigua Torrontes Ugni Blanc 2010
Mendoza, Argentina, $9.99
12.5 percent ABV
A beautiful blend of half torrontes and half ugni blanc, this wine has bright acidity that is well balanced with hints of pear and melon in the mouth and finishes smoothly.