'The Bush and The Tush' back together?
Remember the days when Kim Kardashian thought she was going to marry football player Reggie Bush? Well, those days might not be that far off again. Earlier in the week it was reported that Bush and Kardashian were spotted having lunch together at the Beverly Hills Hotel.
The couple, who met in 2007 and dated on and off until 2010, have remained on good terms with each other. Since Kardashian's divorce from basketball player Kris Humphries, Kardashian has been linked to Mark Sanchez and Jeremy Lin.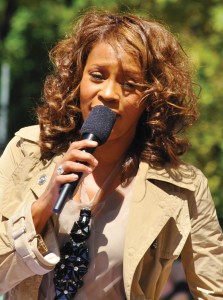 Music icon Whitney Houston was found dead Feb. 11 at the Beverly Hilton Hotel. She was best known for hitts such as "I Will Always Love You" and "How Will I Know."
When TMZ asked Bush about the reconciliation, the football player simply shook his head and said "No."
Adding fuel to the fire, Khloe Kardashian appeared on Ryan Seacrest's radio show Feb. 15 and answered questions about a possible reconciliation between her sister and Bush.
"I mean, I love the Bush and the Tush. Seriously, the Bush and the Tush, that was, like, iconic for me, I loved them. You can't do much better than that," Kardashian said.
It is still up in the air as to whether or not "The Bush and the Tush" are back together. I guess only time will tell.
Grammys, Grammys and more Grammys
Feb. 12 was the biggest night in music: the 54th Annual Grammy Awards held at the Staples Center in Los Angeles. The show opened with Bruce Springsteen and the E Street Band performing their new single, "We Take Care of Our Own." Rapper LL Cool J, the show's first host in seven years, began on a somber note. "We've had a death in our family," LL Cool J said followed by a short prayer. Like many other artists that evening, LL Cool J was referring to the untimely death of singer Whitney Houston.
In typical Grammy style, there were more musical performances than awards aired on TV. With a total of 19 performances, some memorable ones included a tribute to Etta James featuring Alicia Keys and Bonnie Raitt. To honor James, the pair sung "A Sunday Kind of Love." To represent the country side of music, nominee Jason Aldean sang "Don't You Wanna Stay," featuring two-time Grammy winner Kelly Clarkson. Rihanna and Coldplay did a mashup of "We Found Love," "Princess of China" and "Paradise."
Just four days after her divorce was finalized, Katy Perry performed "E.T." and her new single, "Part of Me," which had the rumor mill churning out stories that the song is aimed at her ex-husband, Russell Brand. "Look at me, I'm sparkling. You will never put me out again. So you can keep the diamond ring. It don't mean nothing anyway," Perry sang. Another performance that blew viewers away was Jennifer Hudson's tribute to Whitney Houston. Wearing a simple black lace dress, Hudson shined in the spotlight as she sang "I Will Always Love You."
Out of the 78 awards that were given out, a total of nine were presented on air. Big winners of the evening were Bon Iver, taking home the award for Best New Artist; Jay-Z and Kanye West, who won Best Rap Performance for "Otis"; and the Foo Fighters, who won the Best Rock Performance honor for "Walk."
But by all accounts, the lady of the evening was Adele. Nominated for six Grammys, the "Someone Like You" singer took home all six, tying Beyonce's record for most wins by a female artist in one night. Largely anticipated was Adele's live performance of "Rolling in the Deep." The singer recently took time off to recover from throat surgery and was performing for the first time since then at the award show. "I have absolutely no choice but to recuperate properly and fully, or I risk damaging my voice forever," Adele posted on her website in October. After watching her performance, there is no denying that Adele is officially back and better than ever.
Whitney Houston dead at 48
On Feb. 11 Whitney Houston was found dead in a Beverly Hilton Hotel bathtub. The news of Houston's death sent shockwaves through the music community, especially because it happened the day before the 54th Annual Grammy Awards.
Houston has had a music career that spans back to 1977, when she would sing in nightclubs with her mother. She received numerous record deal offers at an early age, but her mom declined until Houston finished high school. It was in 1983 that Houston met the head of Arista Records' Clive Davis and signed with the label.
Releasing a total of seven albums, Houston's major hit singles were "Saving All My Love for You," "How Will I Know," "I Wanna Dance With Somebody (Who Loves Me)" and "I Will Always Love You." Houston also took on acting roles in such films as "The Bodyguard" and "Waiting to Exhale."
Houston met her future husband, Bobby Brown, at the 1989 Soul Train Awards, and after three years of dating, the couple married July 18, 1992. On March 4, 1993, Bobbi Kristina Houston Brown, Houston's only child, was born.
Toward the end of the 90s, it was becoming obvious that Houston was going through some personal struggles. Her behavior began to change; she was canceling shows, showing up late to interviews and was experiencing dramatic weight loss. That's when the rumors of drug use began, which haunted the singer until her untimely death.
In 2007 Houston divorced Brown, who had been an enabler for her drug problem. In 2009 Houston appeared on "The Oprah Winfrey Show," her first interview in seven years, and revealed she was using drugs with Brown, who "laced marijuana with rock cocaine."
On Feb. 9, 2012, Houston performed for the last time with Kelly Price, singing "Jesus Loves Me." News outlets have reported that Houston had taken pills and consumed alcohol the night of her death, but it is still too early to say what the real cause of death is. Houston's funeral will take place Feb. 18 in her hometown of Newark, N.J., where she will be laid to rest next to her father. The funeral will be streamed online for fans to pay tribute.