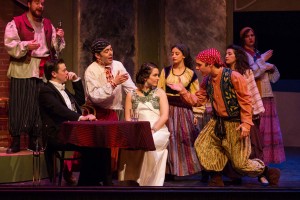 "To Fool The Eye," 1812 Productions' adaptation of Jean Anouilh's "Leocadia" by Jeffrey Hatcher, does admittedly feature visuals worthy of the play's title. A rotating backdrop, clever lighting, quality costume design and a variety of visual gags are all executed very well and contributed a great deal to the production value of the show. However, the plot of Hatcher's play also seems to be intent on deceiving the audience — the show makes grand gestures, commenting on the nature of love, memory and illusion — but feels largely unsubstantial.
After watching the characters meander about without accomplishing much for a good deal of the first act, the audience finally learns that the young Amanda, mysteriously summoned to the old, eccentric duchess's house, was called to imitate the deceased lover of Prince Albert. The prince attempts to relive his brief tenure with the woman by repeatedly going to the same places and performing the same activities he once did with her. The whole story feels convoluted and poorly paced — the characters' justifications for their actions are rarely explained to satisfaction, and after the dragging beginning, the character development in the latter half of the play feels extremely rushed. I was deeply unsatisfied with how the play progressed and felt like the saccharine ending was not well justified.
Additionally, "To Fool The Eye" never explores any of its themes to fruition. Is it a commentary on the folly of an aristocratic lifestyle? A reflection on the purpose of memories? A lighthearted romantic comedy? "To Fool The Eye" exists somewhere in the middle, never exploring these ideas fully. This makes for a lot of loose ends and unsatisfactory resolutions. Even for a play as absurd as "To Fool The Eye" is meant to be, much of the development doesn't feel real. On top of that, much of the humor fell flat for me. It felt contrived much of the time, absurd for the sake of absurdity.
Despite all this, "To Fool The Eye" was not without its charms. I found the acting generally good, though a bit over the top (but I suppose that's the point). The play did elicit a few chuckles from me, and I did like the previously mentioned set design. The performance was well executed, but I would simply suggest picking a better production next time. The show will be running through March 3 in Mandell Theater, though I can't fully recommend attending.