Justin Timberlake is thankfully back on the radar in promotion of his already blogged-to-death third studio album, "The 20/20 Experience," out March 19. This media tour brought him to "Saturday Night Live" March 9, where he donned a tofu suit, reunited with Lonely Island partner Andy Samberg and was inducted into the "five-timers club."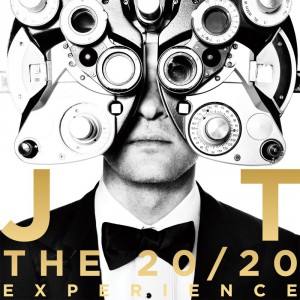 His musical performances that night (first "Suit & Tie," then "Mirrors") were successful but far from an accurate representation of his album as a whole. "Mirrors," the record's second single and the closest thing to pop you'll hear on it, was cut short for time and, more likely, to keep the audience from falling asleep. Running over eight minutes, the track is just one of 10 on "Experience," which JT and longtime producer Timbaland compensate for by making each song unusually long.
"Mirrors" is often radiant, with a gorgeous melody to mask the cliche subject matter. But a combination of reductive beat-boxing stolen right from Timberlake's first album, "Justified," and three straight minutes of grating repetition to close out the song makes it hard to love.
Pretty much every song on the album has three or four good minutes before disintegrating into a hodgepodge of looped beats, strings and drums that just kind of lay there like a guy after sex, tired and useless.
On his celebrated "FutureSex/LoveSounds," Timberlake's longer songs were really an A-side/B-side, two-for-one kind of deal. The length of those tracks was justified because the songs kept progressing and evolving. Not this time.
I can just picture JT and Timbaland working in the studio, passing a half-finished joint back and forth and trying to keep the song going until they manage to burn the last inch of it, occasionally mixing a beat or crooning a syllable to give the illusion that the song was still alive. It irks me to think of the material Justin must have sitting on the sidelines right now in the name of a more drawn out, embellished record.
"I enjoy making music so much that if it doesn't come out, that's OK," Timberlake told two high school students for Rolling Stone recently. "If I get to listen to it in my car by myself, I'm just as happy because I get to hear something that I made."
Well, I want to hear it too, man. I'm sure there were at least five or six other tracks in the running for this album that got axed as the project was coming together. At his current pace, JT won't be releasing another album until 2020, when "The 20/20 Experience" will be spoken of as nothing more than "that time Justin Timberlake tried making a soul record." If his musical statements are going to be this infrequent, it'd be nice to get more for our money's worth.
But let's talk about what we do get. For starters, two tracks about how great it is to be married to the angelic Jessica Biel, namely "Pusher Love Girl" and "That Girl." The first is a smart choice to open the album, with cascading violins introducing Justin's voice back to the microphone after all this time. As he sings about his addictive romance, Timbaland backs him through a talk box, his shaped sounds mixing well with the singer's melody. It's pleasant through and through, and one example of where the song's length (over eight minutes) isn't an issue but an asset.
"I'm just a j-j-j-j-junkie for your love," Timberlake croons, each time more gleefully than the previous.
"That Girl" is thematically similar but with a groovy doo-wop vibe. Backed this time by The Tennessee Kids, a band JT performed with at the Grammys and on "SNL," this song is enriched by the coos and echoes of these men. Based on these two songs, Mrs. Biel is quite the muse.
My favorites, though, are "Don't Hold the Wall" and "Tunnel Vision," two tracks where Timbaland's ear for exotic beats and JT's swagger and versatility are best on display. These songs find Justin dipping his feet back into rhythm and blues, and they beg a comparison to some of Aaliyah's work.
"The 20/20 Experience" lags, however, when JT gets too cheeky ("Strawberry Bubblegum"), formless ("Blue Ocean Floor") or obnoxiously repetitive (the horrid "Let the Groove Get In"). But despite these shortcomings, JT's versatility and charm manages to make this album a success, albeit not one up to our impossible standards.
But JT has always shirked expectations and done whatever he wants, whether it be ditching the music scene for acting when he was at his most acclaimed or making a soul record when everyone expected another reinterpretation of pop music. This is further proof that he doesn't make music for you or (as much as it pains me) for me; he makes it for himself. Let's just hope that the next time he's in the mood to create, it won't take seven years to do so.